We are currently experiencing an issue causing a delay in delivery of Summoner Advancement, the Alliance Quest event, and other 3-Day X-Men use event. We are working to resolve this, but it will likely take a few days. We will ensure that these rewards are delivered to affected Alliances. Please do not change Alliances until your rewards are delivered.
An Awesome Month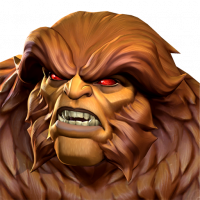 Bruce12342
Posts: 218
★
Hey Kabam,

Just wanted to thank you for all the awesome events going on in game right now... My little R5 symbiote is so cute and powerful... the occult labs are really fun and interactive (not used sarcastically here, as many on the forums use this phrase)...

I can't wait for the symbiotic difficulty to come out! I'm stocking up on some of those boosts already in anticipation!

Just lots of excitement. Thank you!