Unduped 4* Blade to R5?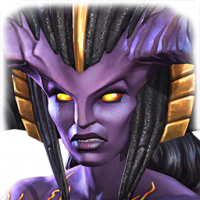 phillgreen
Posts: 2,269
★★★★
I have been holding class cats for a very long time since I have pretty much stopped ranking 4* past R2 and have been waiting for worthy 5* to take to R3.

I am not uncollected, currently in 5.2.5 using 4* since I have nothing much worth using in my 5* roster that I don't already have maxed as a 4*

Then I pull 4* Blade.

I have an unduped 4r5 Sparky who I use in every questing team. AA is my main damage dealer, Quake and SW are my other main picks. I alternate the 5th spot for a niche champ to suit the content.

I only have a 3* GR but do have a 4r4 Dorm.

I can explore master every month with what I have, don't do much in war but do need to get uncollected.

Rank Blade to 5 or hold, the only other champ I would consider is KM and I would 5r3 my duped WS.

Cheers.