As we continue to work to address ongoing issues regarding Parry and Evade, we will be extending the Week 4 Quest of the Summer of Pain and its Solo Objectives by 1 week to better allow you to complete this content. This will not result in next week's content being delayed.
4* mystic gem- who should I use it on? Mephisto?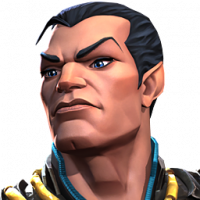 Hfchang
Posts: 186
★
Greetings summoners
Papá needs some advice. From the sweat of my brow in the Champions challenge I earned myself a 4* mystic gem. I was happy. But I had no worthy champions at the time to use it on. I'm at a level where I don't need scarlet witch for game progression any more (I'd been waiting for her in a crystal to use the gem) so I'm forgetting about her. I just pulled a Mephisto, and I've uploaded the rest of my mystic roster below. Is Mephisto worthy enough to dupe and hit up with stones? I'm Gold 2 with my ally so hopefully that gives an estimate of the kind of opposition I'm facing.
So yeah- Mephisto? Yay or nay? Or wait for some other mystic? I'd be able to rank 5 him pretty fast