Game Service Interruption: The Contest is currently experiencing server latency issues resulting in some slowdowns and errors. We are working to resolve this as soon as possible. Thank you all for your patience.
Spider-Ham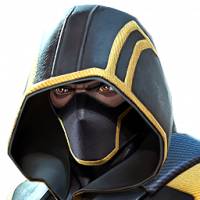 PIZZATIME
Posts: 307
★
If there is a thread for this I'm truly sorry for writing it here but if there is a thread then Kabam will give us 3* Deadpool for free here are my thoughts on Spider-Ham.
SPIDER-HAM
It doesn't matter if he is the OG or ITSV animation
Get at least 10 to 40% physical resistance since cartoon characters can withstand attacks plus evade regularly.
Give me ur ideas for sp 1 2 and 3
Win Fight Screen either 1. puts a sledgehammer he was holding into a pocket making it completely disappear or 2. He is shown with a That's All Folks on screen with him in a circle
Synergies: Teammates: Spider-Gwen, Miles Morales Spider-Man Wall-Breakers: Gwenpool Misfits: Howard the Duck
https://goo.gl/images/vfQawT
https://goo.gl/images/Et6b6s
https://goo.gl/images/J6g4KS