We are currently experiencing an issue causing a delay in delivery of Summoner Advancement, the Alliance Quest event, and other 3-Day X-Men use event. We are working to resolve this, but it will likely take a few days. We will ensure that these rewards are delivered to affected Alliances. Please do not change Alliances until your rewards are delivered.
Consistency with Descriptions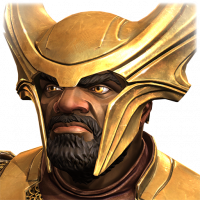 Tasty_Yum_Yums
Posts: 395
★★★
Can we have consistency with descriptions for who the buff/debuff applies too.

For example Hela boss in monthly event quest:

mystic ward: "enemy"
Death's Embrace: "Hela"
Burden of Might: "opponent"
Rage: Doesn't specify

Recommend sticking with just two basic terms, Attacker or Defender. Stop using terms enemy, opponent, and clearly state how the node applies to which fighter (update Rage).

There are a number of nodes that vary with naming conventions. This is just an example.