Please note that when we enable the 1 Loyalty Cost for Revives in Alliance Wars for Season 34, they will not be visible from the screen that appears when you choose to Revive or Heal a Champion from the Fight Screen.

You will be able to purchase Revives from the Loyalty tab in the Store Menu.
Featured 5-Star Champion Crystal - April 9th 2019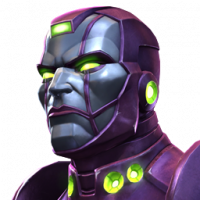 MCOC Team
Posts: 337
Administrator∙Moderator ›
The availability of the current 5-Star Featured Hero Crystal is coming to an end! The next one will be available on April 9th. Here are the Champions that it contains:

Captain Marvel
Diablo
Havok
Mister Sinister
Nick Fury, Thing
Black Panther
Cable
Civil Warrior
Cyclops (Blue Team)
Ghost Rider
Green Goblin
Hawkeye
The Hood
Kingpin
Medusa
Mordo
Ms. Marvel (Kamala Khan)
Rhino
Ronan
Sentry
Spider-Man (Miles Morales)
Ultron
Yondu

This is a brand new crystal that will be replacing the current Featured 5-Star Hero Crystal. Any crystals that you have already purchased or received will not be updated to this new crystal.

Moving forward, we will not be posting these announcements ahead of time in the forums, but are exploring ways in which to share this information with players through other means.