Community's Choice: Champion Update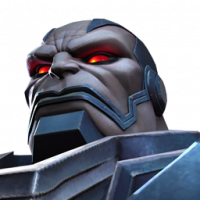 Kabam Miike
Posts: 7,497
Administrator∙Moderator ›
Summoners!

It's time for us to start working on our next Champion update, but we need your help on choosing which Champion will be next! We've created a short list of Champions we want to address, and want to put the power to decide which of these Champions will get the re-work treatment first in your hands!

Below, you'll find a short list of Champions we're looking to address in the future. This list is not indicative of every Champion that's on our Radar for an update, just the ones we want to address first.

How do we get to decide?

Starting May 9th at 10am PT, and running until May 10th at 10am PT, there will be a poll on our Forums where you can vote for which Champion you would like to see receive an update. The poll is only open for 24 hours! So make sure that you've decided in advance which Champion you'd like to see get the update.

Which Champions are on the List?

We've shortlisted the following Champions based on their utilization and performance in content across the Contest, and player feedback through our many channels.
Venompool

Old Man Logan

Groot

Colossus

Howard the Duck

Iron Patriot

Ms Marvel (Kamala Khan)


If you think that a deserving Champion has been left off the list, don't worry! This is a list of the Champions we want to address first, and doesn't not necessarily indicate that other Champions won't also be addressed in the future.

I really want to make sure my choice wins!

Then start your campaigning! Start discussions on why you think your Champion should be the one that others select! Now is your time to convince other Summoners to join you in voting for the Champion you want to see Buffed the most!

When will this updated Champion be released?

Our plan is to take this Champion update through the full rework process. That means we'll take about 2 months to rework the Champion's abilities and tuning, then put them through a Beta test. Those typically last a couple weeks, and then we'll address the feedback that is received.

We've learned from our last couple Champion Beta Tests that we require a little more time between the end of the test and releasing the update to analyze feedback, data, and implement any further changes that might be necessary.

Barring any changes to the schedule, this Champion will be updated and released in early Fall.

Voting Day Approaches!

The time to decide is coming soon! Start thinking of who you want to see updated, and start spreading the word! Voting day is May 9th-10th!

This discussion has been closed.