As we continue to work to address ongoing issues regarding Parry and Evade, we will be extending the Week 4 Quest of the Summer of Pain and its Solo Objectives by 1 week to better allow you to complete this content. This will not result in next week's content being delayed.
The Champion - bit of a wet noodle? Help!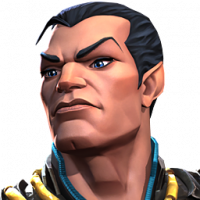 Hfchang
Posts: 186
★
I recently pulled a 5* version of this guy and my reaction was.. well, I didn't react at all. It wasn't a good or bad response - I just had no idea what he's like!

So, of course, he isn't duped - I just pulled him - and I don't have Luke Cage or Aegon, so that's some if his synergies out already. In any of your experiences, is he worth the investment in resources at the moment? Is he a hard hitter? What are his benefits? I have a list of champs waiting to be taken to rank 4/55, but does he deserve a place fitting his name?