Looking for a player maybe 2 after war season is over.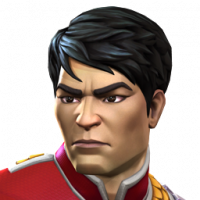 Con892
Posts: 101
★
We are boarder line gold 2 alliance looking for 1 or possibly 2 to join us in 4 days after war season rewards are out.

Ideally looking for a UK player but a European English speaking player would be great too.

We carry out map 4 so no donations needed. We found to carry out map 5 you had to be on the game nearly all day as you cant double up on lanes. So we stick to map 4 now.

Feel free to add me in game or line at connor892.

Again we are looking to set someone up or 2 people for when war season ends in 4 days and rewards are out.

If your out growing your alliance or looking to slow down i would like to hear from you. Would love someone with a strong defence for war with a great boss.but mainly I want to hear from active team players who can complete their war lane with out back up. We run war and quest together so have at least 11 good champs.
Active team players come forward and join our family.

Come for a chat and see what we can sort out.

Ally tag is EFTD

Also if there is any Australian alliances that read this we have a guy who lives over there and will be looking for an alliance after war is over. Please be on par with us so i can send him your details. We would be keeping him if the time difference was not an issue. He is a great strong player. Will be sad to see him go.