**KNOWN ISSUE**
Currently, Alliance Prestige (as it concerns Alliance Quests) is not taking Relic Prestige into account. If possible, we are working to address this for the next round of Alliance Quests but will have more information for you when it is available.
9 mil allance [P1gnk] looking for 1 American based 200k+ player Aw tier 4. Aq expert tier map 5X5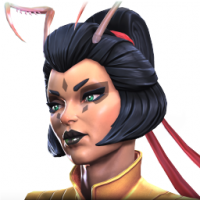 havoc78600
Posts: 23
Hi guys we're looking for one US based player with at least 5-6 4* 5/50s as one of us is retiring from the game. We rank 926 in AQ expert tier with ranked rewards as 2 greater glory crystals and 1 glory crystal 1 full t4b. Aw tier4. Weekly SA no hoarding. Completion/item use 250 4* shards ever time. Please hit me up ingame @ havoc7860. No arena minimums. We require whatsapp for communication and are pretty fun to be around.