Game Service Interruption: The Contest is currently experiencing server latency issues resulting in some slowdowns and errors. We are working to resolve this as soon as possible. Thank you all for your patience.
(SPOILERS AHEAD) Question about Ghost in the MCU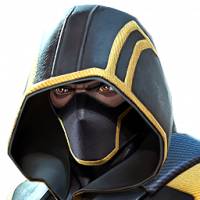 PIZZATIME
Posts: 307
★
I know others might've asked about this but what specifically happened to Ghost after Endgame or even after Infinity War?
If she got snapped away that is a valid explanation
If she didn't then how did she survive since (remember the MCU is currently in 2023 or 5 years from now but not actually it just says 5 years) she needs those weird quantum rays or whatever as we see in Ant-Man and the Wasp. She said she would die from her molecular disequilibrium in two weeks during the movie however it might be prolonged cause of the end where Janet Van Dyne gave her some healing
Also another Sidequestion: If Ant-man was stuck in the quantum realm how come he didn't grow old?
Edit: Kevin Feige said he was stuck in the quantum realm for 5 hours during the 5 year period so my bad (but shouldn't it be reversed?)
If this was already answered sorry for wasting everyone's time here but that's kind of what you are supposed to do on a forum.