Due to issue with the "Not Another Anime Reference" Solo Event, we will be disabling the event for the time being. We will return the event at a future date when the issues have been resolved. We apologize for the inconvenience.
**BANQUET EVENT PSA**
To fully participate in the upcoming Banquet's Alliance Event you will need to be in your alliance for 14 days prior to the event's start date on December 20th. That means, stay in your alliance from December 6th onwards to enjoy all there is to offer in the Banquet event.
Wasp Evade [Merged Threads]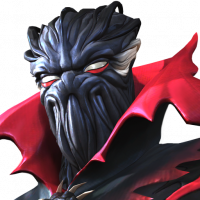 Lormif
Posts: 7,367
★★★★★
Wasp used to shrug off debuffs then evade as her ability stated:
https://playcontestofchampions.com/champion-spotlight-wasp/
Wasp has a 8% chance to shrug off all Damaging Debuffs other than Bleed, then shrink to Counter Attack, Evading the opponent's attack and inflicting Shock, dealing 1384 Energy Damage over 8 seconds. This ability does not activate if Wasp is about to Parry an attack.
It seems though that with the new patch this has changed to only shrug off the debuffs when she successfully evades, which means she would not/should not be able to evade something like iceman.
Now people are saying she is still evading iceman like her previously worded ability would allow, so I am not sure which is the bug the wording or the effect, but since the wording had to be changed perilously I am going to assume she is not longer meant to evade iceman.
Post edited by Kabam Vydious on