Rank up decisions, please advise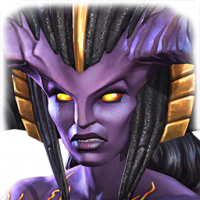 phillgreen
Posts: 2,262
★★★★
So I opened a bunch of crystals.

Featured 5* duped my crossbones, not terribly happy about that and he will stay at R2 (could take to R4 right now)

Pulled a 4* beardo (captain america infinity war), I've seen a lot of chat about how good he is and I think I can find a spot on the team if only for synergy but also as a decent attacker.

I have not completed UC EQ yet, I don't spend so I normally go as far as I can and stop.

My regular questing team:

5r4 unduped ghost (my only R4)
3* wasp for synergy
4r5 duped AA, if it bleeds and poisons, it will die
4r5 Quake, for anyone immune to AA that won't die quick with ghost.

Fifth slot reserved for whoever is needed for the hard fights in master but it will probably be a 4/40

5* champs of worth
Gladiator hulk (unduped, R3)
Proxima (unduped R2)

Do I take beardo to R5 and awaken with a generic, must be useful for almost every EQ to justify the T4CC.
Should I take 5* Gulk to R4?
Is unduped 5* proxima worth R4?

Remember, T4CC don't rain down from the sky, I am not interested in AW or AQ, I would like to take on LOL one day and I haven't attempted any variant.

Share your thoughts.