Get a Free 3-6 Star Baron Zemo this Week!
Log in to the Summoner's Market at
https://store.playcontestofchampions.com/
and claim the Baron Zemo Selector between 10am PT November 24 and 10am PT on December 1st.
Proven and Below: 3-Star
Conqueror/Uncollected: 4-Star
Cavalier/Thronebreaker: 5-Star
Paragon/Valiant: 6-Star
You can only claim this Baron Zemo one time. The Baron Zemo is delivered as a selector, claiming it will require you to choose your rarity immediately. If you plan to change your Progression level during the Cyber Week event, we suggest you wait until you have made that change before claiming this selector.
Due to issue with the "Not Another Anime Reference" Solo Event, we will be disabling the event for the time being. We will return the event at a future date when the issues have been resolved. We apologize for the inconvenience.
**BANQUET EVENT PSA**
To fully participate in the upcoming Banquet's Alliance Event you will need to be in your alliance for 14 days prior to the event's start date on December 20th. That means, stay in your alliance from December 6th onwards to enjoy all there is to offer in the Banquet event.
Community Champions Competition - Week 1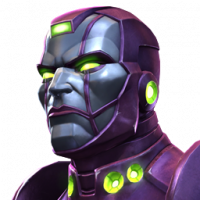 MCOC Team
Posts: 473
Administrator∙Moderator ›
Greetings Summoners!
We're 2 days away from our first match in the Summoner Showdown! This Wednesday at 1pm PST/4pm EST, ChunkyB, Starfighter0717, and DuckSlug will duke it out to see who comes out on top, and earn their spot in the tournament at New York Comic Con!
Now it's your turn to participate! These 3 Contestants have chosen their favourite Champions, and we want you to duel them for a chance to win this week's 5-Star Hero Crystal.
Find any one of these 3 Accounts in-game, duel them, and submit a screenshot that clearly shows your in-game screen name and the account you are dueling, to be entered into the random draw for your chance to win:
MCoC ChunkyB (Champion: Killmonger)
MCoC Starfighter (Champion: Captain Marvel)
MCoC Duckslug (Champion: Venom the Duck)
Then, head over to our contest page to submit your screenshots.
Full
Terms and Conditions
can be found on the submission page.
But that's not all! After your duel, let us know which of these 3 you think will be our first Summoner Showdown winner.
Vote in our poll, and if the majority of Summoners get it right, everybody that dueled any of these 3 Champions will win 3 Energy Refills. If the community chooses the 2nd place winner, you'll all win 2, and if the community chooses the 3rd place winner, you'll all win 1.
Don't forget to tune in to
Marvel.com
on Wednesday July 31st at 1pm PT/4pm ET to see this all go down live!
How to take a screenshot.
Post edited by Kabam Lyra on
This discussion has been closed.