Community Champions Competition - Week 6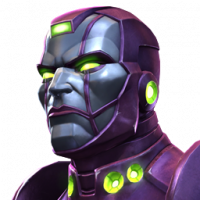 MCOC Team
Posts: 398
Administrator∙Moderator ›
Greetings Summoners!

We're coming up on Week 6 of the Summoner Showdown! It's going down live at Marvel.com on Wednesday at 1pm PDT/4pm EDT! Make sure you tune into marvel.com/MCOCshowdown to watch Mvinceable, Mutamatt, and OldManCanned compete for their chance to win their way to New York Comic Con!

Let's meet this week's contenders!

Mvinceable: This long-time player has a number of accolades to his name, including 15 Legends Titles earned over just 14 months. He placed in the Top 10 for 9 of those titles, and in 1st place for 2 of them!

Mutamatt: The creator of theclassadvantage.com, and many tools that you might have used yourself! Mutamatt prides himself on his use of Psylocke, and stands by his 5/65 Sig 200 Psylocke!

OldManCanned: Watch out for OldManCanned and his Sig 200 Void! This daily player just likes to have fun, but should not be underestimated!

Our 3 Contenders have chosen their favourite 6-Star Champions, and we want you to duel them for a chance to win this week's 5-Star Hero Crystal!

Find these 3 Accounts in-game, duel them, and submit a screenshot that clearly shows your in-game screen name and the account you are dueling, to be entered into the random draw for your chance to win:

MCoC Mvinceable (Champion: Dr Strange)
MCoC Mutamatt (Champion: Psylocke)
MCoC OldManCanned (Champion: Void)

After you've Dueled, head over to our contest page to submit your screenshots. You don't have to win the Duel to Enter! You only have to participate.






ENTER USING OUR CONTEST PAGE HERE

But that's not all! After your duel, let us know which of these 3 you think will be our first Summoner Showdown winner!

If the majority of Summoners get it right, everybody that dueled any of these 3 Champions will win 3 Energy Refills! If the community chooses the 2nd place winner, you'll all win 2, and if the community chooses the 3rd place winner, you'll all win 1!

Don't forget to tune in to Marvel.com on Wednesday September 4th at 1pm PT/4pm ET to see this all go down live!

Energy Refills and the 5-Star Hero Crystal will be delivered via in-game message on Friday, September 6th.

NO PURCHASE NECESSARY.

Must be above age of majority with a MARVEL Contest of Champions game ("Game") installed on your device as of the start of Giveaway Period.

VOID IN BELGIUM, BRAZIL, COLOMBIA, HONG KONG, ITALY, KENYA, MALAYSIA, NIGERIA, POLAND, QUEBEC, RUSSIA, SAUDI ARABIA, SWEDEN, TURKEY, THE UNITED ARAB EMIRATES, AND WHERE PROHIBITED OR RESTRICTED BY LAW.

For instructions on how to Duel, read these instructions here.

For instructions on how to take a screenshot, read these instructions here.



This discussion has been closed.