Captain Marvel is gaining energy charges outside of her written abilities.
CoatHang3r
Posts: 4,155
★★★★★
Captain Marvel gains energy charges when taking any form of energy damage. This is not listed as an ability and seems to contradict how she is stated to gain them "when struck". She will build charges from passive energy damage (Mephisto's aura, Electro's reflective, etc damage) and also from debuffs that deal energy damage (Coldsnap, incinerate, etc)
Under Energy Absorption in her ability page it describes that she gains charges when stuck by energy attacks. It is not mentioned that she builds charges when taking any energy damage.
From spotlight.
" ENERGY ABSORPTION
Captain Marvel gains Persistent Energy Charges by Blocking Physical Attacks and when Struck by Energy Attacks. Any Energy Charges that Captain Marvel ends a fight with persists between fights. Max 25 stacks.
Well Timed Blocks generate an additional Energy Charge.
At the start of the fight, Captain Marvel gains 2% of Max Power for each Energy Charge she has.
Captain Marvel suffers 251.43 damage when Energy Charges are generated by the effects of Mystic Champions."
Video showing charges building without being struck. Mephisto's aura, Electro's Static Shock and Iceman's Coldsnap.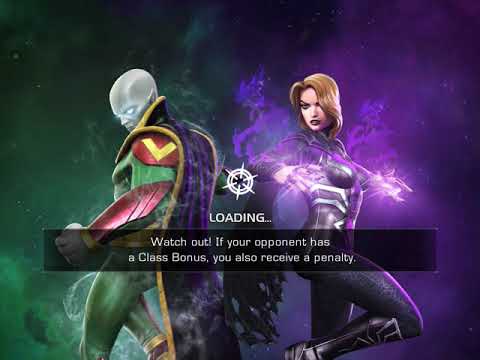 Ios 12.4
Ipad pro 10.5
Video shown is dueling, however this occurs in all game modes.
Version 24.2.1
Wifi