Community's Choice: Champion Update #MCoCChampionUpdate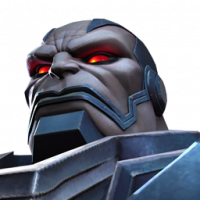 Kabam Miike
Posts: 7,661
Administrator∙Moderator ›
Greetings Summoners!

It's almost time for you to choose the next Champion to receive an update!

As we grow closer to releasing the updates for Colossus and Old Man Logan, we're very excited to get started on the next round of updates.

We've selected 6 Champions from 4 Classes (Sorry Mutants, you just got 2 updated Champions) that we see are underperforming through data and your feedback. From October 11th at 1pm PDT until October 12th at 1pm PDT, you'll be able to Vote on which Champion you'd like to see get an update in a Poll on the Forums.

Here are the Choices!

Abomination (#BuffAbomination)
Daredevil (#BuffDaredevil)
Hulk-Buster (#BuffHulkBuster)
Iron Man (#BuffIronMan)
Ms. Marvel (Kamala Khan) (#BuffKamala)
Black Panther (#BuffBlackPanther)

You'll notice that some of these Champions weren't one of the choices last round, and that some of the previous choices have been replaced. We have a larger list of Champions that we would like to tackle than just these listed, and want to work through them all over time. Don't worry, those other Champs can come back in a future pool.

We can only guarantee that the Champion that receives the most votes will receive an update, but if time permits, our design team may choose to select another Champion that they would like to update.

After the vote, our team will start work to come up with an update, test it internally, put it through a Beta test, revise, and release the new update over the coming months.

Who do you want to see get the next Champion update? Let us and your fellow Summoners know! But don't just tell us who, tell us why, and get ready for Voting day!

NOTE: Your choices do not include Daredevil (Classic) or Black Panther (Civil War).
Post edited by Kabam Miike on
This discussion has been closed.