Pausing Champion Balance Updates UPDATE Dec 18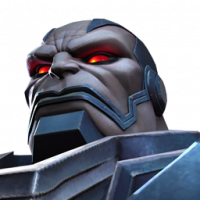 Kabam Miike
Posts: 7,771
Administrator∙Moderator ›
Hey Summoners,

We wanted to take a moment to let you all know that we are going to take a brief pause on updating recently released Champions, and based on your feedback, work towards better communication of changes, and the reasons for them.

You've taught us that without player-facing data, and any examples of what these changes might look like, any kind of down-tune of a Champion will cause uncertainty and frustration. We don't want you to feel that you have to hold off on all rank up decisions on new Champions for an extended period of time.

Balance updates are a necessary part of any game that receives constant content releases and updates. In our case, new Champions with new abilities. Balance updates allow our design teams to come up with new and interesting abilities and interactions, without the fear of creating something that becomes a new "barrier to entry".

Our goal for these Champions balance corrections is for them to be small changes that don't alter the Champion's abilities or make them less desirable. But as it stands,that's not possible for you all to see. Rather than just ask you to trust us, we're going to share these changes, and the data we're using to inform these changes, so you can see what we see, and understand where we're coming from. Moving forward, we want to share as much as we can to make changes clear and transparent, so you can see what we see, and hopefully understand where we're coming from.

We're going to take some time to gather this information for all the champions from Annihilus to Invisible Woman, and then in December present all these changes to you in a forum post, and give you a chance to provide feedback before we release them into the game.

During this time will continue to work on Champion balances, however, we will be grouping a few more together with each announcement. Those announcements will include a detailed breakdown including data.

This likely means a change to the cadence or timelines for ongoing balance updates from the one that we announced here. We'll update you all on those changes soon.

NOTE: This does not affect Champion Reworks, like Colossus and Old Man Logan, or the next Champion update poll that will be live Friday, October 11th.
Post edited by Kabam Miike on