**KNOWN ISSUE**
Currently, Alliance Prestige (as it concerns Alliance Quests) is not taking Relic Prestige into account. If possible, we are working to address this for the next round of Alliance Quests but will have more information for you when it is available.
Alliance Wars Season - Ending Immediately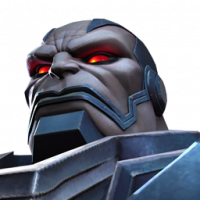 Kabam Miike
Posts: 7,585
Administrator∙Moderator ›
Summoners,

Due to the issues that occurred this weekend, we will be ending Alliance Wars Season 13 immediately. Following multiple issues that kept Alliances from completing their Wars, or being able to enter new matches, this Season is no longer something we can call fair and competitive.

We will be calculating the final Season scores based on the first 6 Wars of this Season. Additionally, anybody that participated in one War this season in the Alliance they are currently part of will be eligible for Alliance War Season Rewards.

We realize that this does not address the effort exerted, or resources used by Alliances in Wars that started after Tuesday, November 5th. We will be addressing this in a General Compensation for Alliance Wars, in addition to Compensation for other issues we encountered this weekend. We do not have details on what that looks like right now.

Thank you all for your understanding as we worked to resolve these issues, and address their knock-ons.
This discussion has been closed.