Going into act6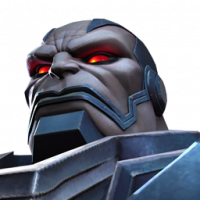 Svensktiger
Posts: 98
★
So i have just 100% act 5. Im sitting on resorces to take 2 more 5 star champ to rank 4 or one to rank 5. Going for cavailer title who can you advice me to rank up? Or should I just wait for some other champ to come into my roaster before I go for the Cavalier title?

I'm having these champs at rank 4 right now. Blade (no 5 star trinity), Hyperion, Rhulk, Corvus, Dr Voodoo, Hood, Sentinel. All duped/awakened
Have 6* Havok aswell as Aegon but not awakened
And I have these 5 stars at rank 3 that I might think is good for act 6?
Void, Killmonger, Magik, CapIW, Thing(no balls to the wall team for him)
None of the ones at rank 3 are awakend but I'm sitting on a mystic and generic gem and around 100 sig stones for both mystic and science.

And sorry for any grammatical errors..