UPDATE: A new Hotfix (v32.2.3) is now being released to address this issue. Please keep an eye on your App Store for this update to address the below issue.
We are currently experiencing an Error when Summoners view a Champion's Synergies while in the Champion Selection screen in Arenas and Duels. We are aware of this issue and are working on a Hotfix to address it. In the meantime, please avoid using the synergy menu to prevent this error and crash. We apologize for this inconvenience. Updates will be posted here:
https://forums.playcontestofchampions.com/en/discussion/293506/error-when-looking-at-synergies-from-champion-selection-screen
A little sympathy, folks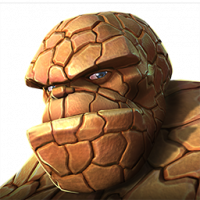 klobberintyme
Posts: 855
★★★
I know everyone's all mad and stuff about bugs and rewards and bans and such, and maybe right now you don't want to hear it, but right now, somewhere in Vancouver, some poor schmucks are being pulled from their coding and being handed a big ol' pile of horse poo to sift through and figure out who did what now and what to take back and so on so forth. After all, there's no simple roll back, this is most likely a one-by-one human eyeball account review of TENS of THOUSANDS of accounts. Thats a lot of poop-sifting man hours for the low guys on the totem pole who probably wished the devs did their job juuuuust a little better. For you see, Kabam isn't some faceless corporate moneygrabber, it's made up of hard-working guys and gals who are trying their best and who ultimately pay a price for exploits or bugs or whatever people on the boards are in a huff about. Anyway, here's to you, unfortunate Kabam employees that have to deal with this mess - I've been there! Hang tough, keep getting them checks!