V4 and 1* Champs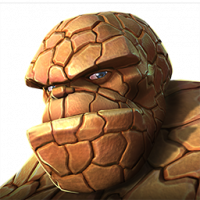 Raymundo86
Posts: 586
★★★
I want to start by saying that I sold all my champs once. That being said I sold my 1*s almost immediately over three years ago when they became useless after playing the game for a few weeks. I also want to say V4 has been very enjoyable except for the final chapter.

I honestly am not mad or frustrated that I have to rank up 2,3 and 4* champs, I've actually found it quite fun. It gives me the chance to play with some old favorites like SW as well as rank up some new champs that I haven't been lucky enough to pull as 5 or 6* like fury, doom and CMM. Since selling my champs I've acquired almost every character in game back except for 1*'s.

I am however very frustrated about the final chapter. I got some crystals and was able to get 1* gamora and BP and did initial completion with them no problem but am unable to get any others with immunities because bad drop rate/rng and I'm not gonna drop odins on 1* champs. Isn't this the same as 6.2 with class gates? You are required to buy a crystal with horrible drop rates to get one or two specific champs that will get you though?

That being said I understand it is my fault I sold my champs but my question is why is it an option to sell your champs. I remember reading a post from kabam stating you can't sell your 5* and 6* champs because it's unhealthy for players. Hasn't it always been unhealthy? When I started playing this game there wasn't a fraction of the tools new players currently have To guide you on progression and game mechanics, you just had to learn the stuff on your own. There was nothing in game telling me that if I sold my champs there's no way I can achieve them again except for gambling and micro transactions and they will be necessary down the road to complete content. I think it's incredibly unfair and deceitful to put up this road block for people that having been playing for years. There needs to be a reasonable option to get 1*s back.