**KNOWN ISSUE**
Currently, Alliance Prestige (as it concerns Alliance Quests) is not taking Relic Prestige into account. If possible, we are working to address this for the next round of Alliance Quests but will have more information for you when it is available.
Invisible Woman Rebalance Information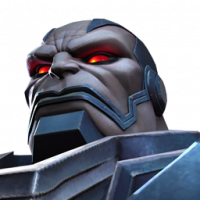 Kabam Miike
Posts: 7,585
Administrator∙Moderator ›
IF YOU HAVE NOT, READ THIS POST FIRST.
Summary:
Invisible Woman is one of the champions we decided to leave unchanged, at least for now. She's a very potent Defender due to both her inherent Defensive mechanics, and the strength of the current #Small Defense Tactic. On Attack her damage is below-average, and she unfortunately lacks in other utility to make up for it, but we also expect her damage numbers to improve once Mister Fantastic becomes more common, due to her synergies with him.
We have decided to leave her as-is for now, due to her already being a potent defender and the potential for her Attack numbers to improve without a dedicated change to her. We will be keeping an eye on her in the next while to examine the impact of Mister Fantastic's release on her numbers, and may still go back and improve her in the future.
Conclusions:
Her damage is lower than average, possible causes of this are that her baseline stats are too low, and that she has a higher than average skill requirement to play.

Damage mitigation is good in some modes, but not in others.

She's performing very well as a defender.

We will wait to see the effect that Mr Fantastic and his Synergies have on her performance.

Reasons for Not Changing her at this Time:
Defender-wise, she's in a good place. Currently, she's not achieving her goal of being a sustain champion when on attack, but correcting this requires either:
Increasing the shield strength - Would add too much additional defender value

Adding some kind of limit or damage cap to the shield - This is a gameplay change, which isn't in-scope for these rebalances.

Her invisibility mechanic is also going to be easier to maintain after Mister Fantastic is more common.
Areas to potentially change in the future:
Her Forcefield is not functioning as a means to sustain, due to Defender attack scaling outpacing the shield strength

She lacks in utility

Her best Damage loop requires her to use her SP2, which sacrifices her shield

Re-examine her high skill requirement

Do a general reassessment in the months after Mister Fantastic's release

Data:
This chart shows the Top 15 Defenders on the Defense Tactic favoring Small Champions. Invisible Woman has a high win rate, and an especially high "Undefeated" rate, relative to her number of Encounters.
Note: Sheets View lists "Class". For our purposes, "Trained" indicates the Skill Class, and "Chemical" indicates the Science Class.
This chart shows Invisible Woman's Defender Win rate using different Defense Tactics, including those that do not benefit her.
This chart shows Invisible Woman's DPS in different modes compared to some of our more popular Champions. This is split by player percentiles, and as you can see, there is a bump in her DPS as more skilled players learn to use her.
Circle - Blade

Square - Cap IW

Triangle (Up) - Ebony Maw

Cross - Invisible Woman (highlighted)

Triangle (Left) - Magik

Star - Medusa

Triangle (Down) - Omega Red

Diamond - Ronin

Triangle (Right) - Stark Spiderman

Changes:
At this time, we have no plans to make changes to Invisible Woman. We are going to wait to see how the full force of the Fantastic 4 Synergy and future changes to Alliance Wars have on her.
Post edited by Kabam Miike on