Again with the rank-up advice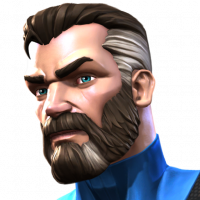 o_o
Posts: 264
★★★
I'm trying to decide whether to r4 someone now or r5 someone later. I only have one r5 right now (Fury) and 9 r4s.
Here are my options:
- r4 CAIW (unawakened)
- r4 Ghost (unawakened; also i'm not a very good Ghost player... i do have 5* Wasp & Hood tho)
- r4 Stark Spidey (sig 20)
- r5 Omega Red (sig 110 BUT i don't run suicides and i hear that's pretty important when it comes to OR?)
- r5 Stealth Spidey (sig 60)
I use Sparky in AQ with the trinity and both Omega and Stealthy in AW attack.
If i ranked up Ghost or CAIW i'd use them for questing (currently closing in on Act 5 100%) and possibly AQ / AW.
Any advice appreciated
Again with the rank-up advice
23 votes