Alliance War Revamp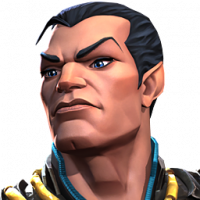 Siliyo
Posts: 608
★★★
To add a little flair to Alliance Wars at the moment I was thinking of adding optional paths to take in war. These optional paths consist of "care packages" that affect the entire battle group. These care packages contain either health boosts, attack boosts, additional health potions, more potent health potions, or a boost that reduces the attack/health value of the opponent (does not include Boss/Mini Bosses).
The risk/reward is that there are 9 regular war paths. You can typically use your 10th member of the battle group as either a backup to help another member struggling or to help clear mini bosses. Under this new addition, you now have an option to use this 10th member to retrieve some of these care packages on the map to help your battle group clear the map with a little more ease. There will also be an additional starting path so that you can access the new care package lanes. See below on how I suggest it looks.
However, the more care packages you take, the less points you receive for that war. These points will be in the form of attack bonuses. Below is the breakdown for how many attack bonuses you will lose if you take a care package
- Attack boost (225 attack bonus)
- Health boost (225 attack bonus)
- Additional Health potions (300 attack bonus)
- Potent health potions (300 attack bonus)
- Opponent attack/health reduction (550 attack bonus)
These paths will be "guarded" by chosen champions by the devs, meaning the opposing team will not place their defenders on these nodes. They will be similar to AQ mini bosses. These "Care Package" guardians are indicated on my War Map by the red dots.
I think this will be a way to refresh alliance war in some way. What are your thoughts?