Storm (Pyramid X) AQ Map 7 Shock Path
CoatHang3r
Posts: 4,952
★★★★★
Storm (Pyramid X) is taking damage from the Shock 30 node in AQ map 7 with her lightning tempest active. Lightning Tempest is described as " Lightning Tempest: Decrease the potency of incoming Shock effects by 100%"
The Shock 30 node reads " inflicts Shock on the attacker, draining 100% health over 30 seconds." which, to my understanding should be the potency of the shock Debuff placed (default 100%), this is not increased in potency. The node also reads "this ability has +100% flat ability accuracy" which, to my understanding, means the chance to apply is +100%.
I think the node's function or description is flawed here since Corvus Glaive prevents the Shock from applying in spite of the +100% ability accuracy clause.
Video: AQ map 7, Node description, global nodes, Storm taking Shock damage with Lightning tempest Active and Corvus preventing the node from applying at the fight start.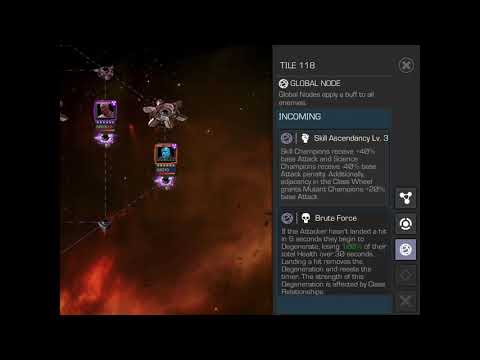 iPad Pro 10.5
Current iOS
Current game build
WiFi