Another Rank 5 Champion Advice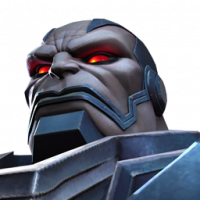 Capt_Munch
Posts: 42
★
Hi y'all,

I am on the verge of another Rank 5 5star champion. I am leaning towards Capt Marvel Or Spidey Stealth. I love champions that hit hard right out the gate. That is why I love Domino so much. She gets me out of situations fast. What are your thoughts?

My Current rank 5*5:
Domino (unduped)
CAIW (duped)

My 5*4 champions I am considering:
Capt Marvel Movie (duped) Fun to play, don't have Nick Fury yet.
Spiderman Stealth Suit (unduped) I haven't quite figured out how to play him well
Venom The Duck (duped) Fun to play but takes a while to ramp him up.
Sentinel (duped) Boring to play for me.
DarkHawk (duped)
Symbiote Supreme (unduped) not as fun to play.

Should I wait and rank up one of the 5*3 to 5*5?
Spiderman Stark (unduped)
ArchAngel (duped) Spam heavy is always fun.
Quake (unduped) I can't play her well.
Dr Voodoo (unduped)
Colossus (unduped)

Thanks for the comments and advice!