**Known AQ Bug**
We are aware that some alliances encountered a bug during this last AQ that would not allow them to start maps on certain days. We know this has impacted your rewards.
We have been looking into the cause of the problem and once we have resolved it we will explore how to make things right for the impacted alliances. We will provide any additional communication in
Summoners! The Tiered Unit Offers available during the Summoner Celebration sale are only available until July 4th at 10 AM PT, unlike the Unit Store offers, which are available until July 5th at 10 AM PT. We apologize for any inconvenience or confusion this may cause.
Another one of those 5*/6* roster sharing thread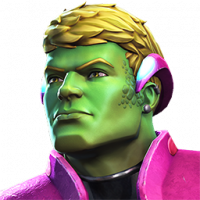 Dashamtvamasiay
Posts: 81
★
So , finally I had my series of good luck ended today with my absolutely new 6*....JANE FOSTER!! But I ain't disappointed, bcoz I don't expect much from 6* crystals at all 😊. And yeah kabam will definitely buff her also in the coming days.
But before this pull I had an amazing luck, my latest 5*s being- dr doom , stealth spidey, Emma frost , silver surfer, hela, mysterio, squirrel girl and morning star.
Anyone else having a nice/trash roster , pls share it here.