Pledge yourself to Galactus!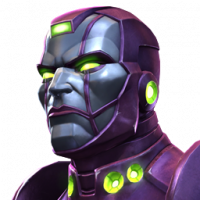 MCOC Team
Posts: 412
Administrator∙Moderator ›
Summoner,

Fear not, for salvation is near. The Great Devourer is coming to guide us into the future! It is time to earn your place as a Herald of Galactus!
Prove Yourself

Every day from August 5th until September 2nd you will gain a Galactus's Favor item from a special Heralds of Galactus Calendar. Use that Favor to gain entry to a special event quest that rotates daily. Rewards for these quests will alternate daily between Crystal Shards and Catalysts and Fragments, with a special Quest on Tuesdays giving access to both Shards and Catalysts. Quests will also be based on Classes.

Use this opportunity to target the rewards that you need to strengthen your roster. You can save your favors and enter any quest you'd like multiple times, so you can choose the Quest that is best suited for your needs and your roster!
Herald Difficulty

For those who have truly proved their might, a special Herald Difficulty of this month's Event Quest will be open to those who have become level 55 or higher. Naturally, more danger calls for increased rewards, so make the most of this Cosmic Challenge!
Galactus Rewards his Heralds

The rewards for each quest are listed below. Please remember that these are listed per day, and you will only be able to do 28 Quests.
Solo Objectives

Special Solo Objectives will be available as you fight alongside other Heralds. Some objectives are locked off to those who have progressed in the Story of The Contest. With Objectives unlocked for those who have completed Act 4, more for those who have become Uncollected, and a special set that awards Tier 5 Class Catalyst Fragments for those that have achieved the rank of Cavalier! Battle across The Contest and be rewarded!