As we continue to work to address ongoing issues regarding Parry and Evade, we will be extending the Week 4 Quest of the Summer of Pain and its Solo Objectives by 1 week to better allow you to complete this content. This will not result in next week's content being delayed.
Every. Single. Event. Quest. Ever.
SpideyFunko
Posts: 16,850
★★★★★
I'm not going to waste precious characters on an intro, we've got 64 of these bad boys to get through. However, I will thank
@SlayerOfGods
for his system italics for quest names. Also, no quest dates because they'll just take up space. If you want, ask and I'll put them below. Anyway, Number 1:
The first ever event quest in MCOC,
Ultron's Assault
. This introduced the titular Ultron as a tie-in to the second Avengers film. This was turned into the uber-hard and super annoying Variant 1.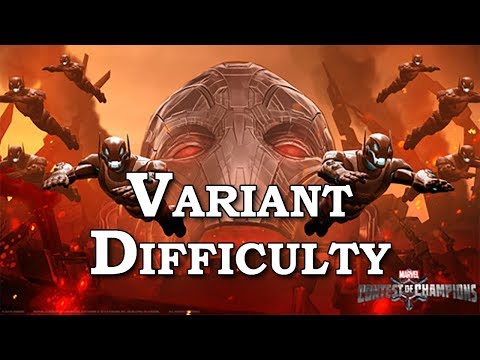 The second event quest, also known as Variant 2, is
Mystery in the Microrealms
. This was also a movie tie-in, this time to
Ant-Man
. Introduced were Ant-Man and Yellowjacket, along with a special arena that gave pym canisters.
https://www.youtube.com/watch?time_continue=152&v=bwZHS_gDB28&feature=emb_logo
Next is
Polar Opposites
which gave us the soon to be buffed White Mags (hope he's good).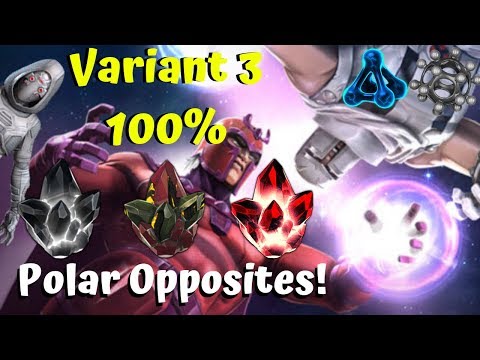 After that, we saw what is as of right now the easiest variant,
Waning Moon
. This gave the contest new exciting heroes like Symbiote Spider-Man, Moon Knight, and Deadpool X-Force.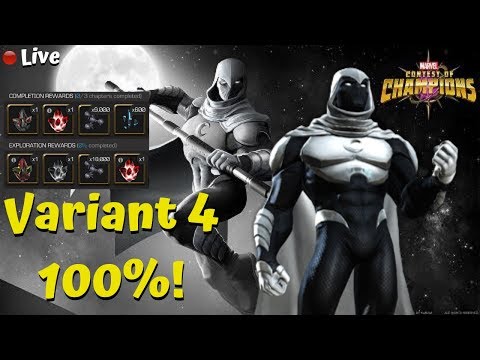 The next month saw the release of the official Marvel Contest of Champions comic book, featuring multiple characters that aren't in the game, including Outlaw, the British Punisher. One character who did appear in the comic was the MCOC original character Guillotine, who then was introduced into the game via
Blood and Venom
which also gave us Venom.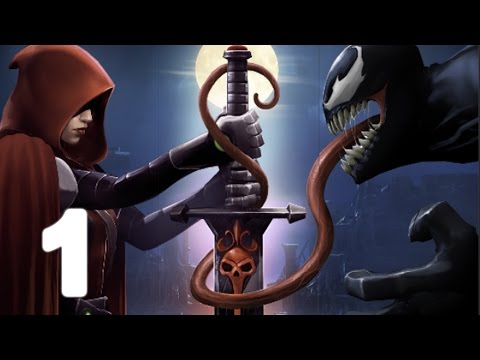 With the arrival of season 1 of Jessica Jones, we saw yet another tie-in event quest.
Contamination
gave us Daredevil Netflix, Luke Cage, and the still unplayable Jessica Jones.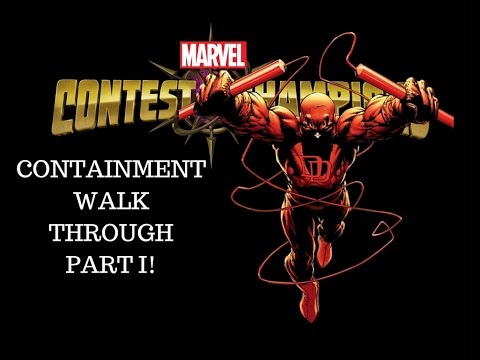 (look at the comment on this video, imagine saying that today)
Rocket and Groot's Holiday Special
was the following event, and it brought with it the best champion in the game, Groot. This was meant as a look back on the events that happened in MCOC that year, so the first chapter had six quests.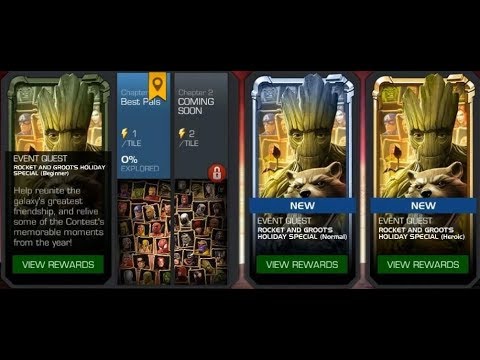 2016 kicked off with a bang as Miles Morales was introduced into the contest in
Arachnid Action
. Also introduced this month was the first boss of this event, Blue Cyclops!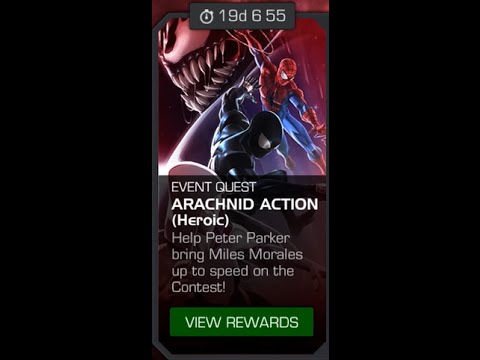 2016's first tie-in was to Deadpool, so what better way to celebrate than well, Deadpool?
Deadpoolooza
gave us Deadpool running the contest for a day and creating Venompool. It also gave us Old Man Logan.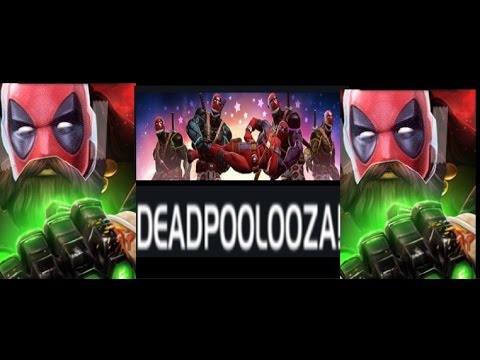 The milestone tenth event quest in MCOC history was
Kamala's First Day
which introduced both the titular Kamala and She Hulk, and started teasing Agent Venom.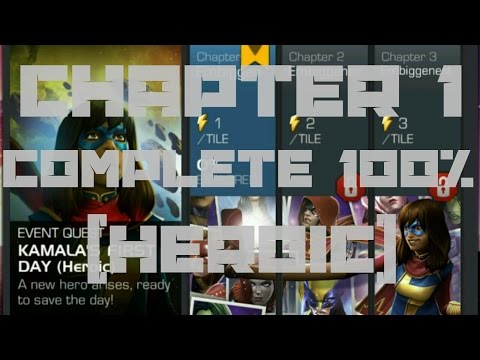 After that was
M.O.D.O.K., Mo' Problems
, which let us play as Agent Venom and Red Hulk, and also M.O.D.O.K. (but he wasn't playable yet)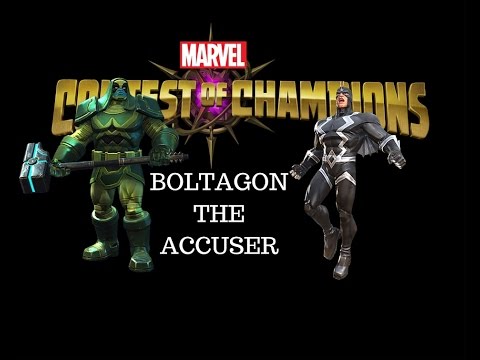 The next month brought with
Cosmic Civil War
, a tie-in with the third Captain America film, as well as the first part of the Cosmic Civil War storyline. There was also a side event which was different based on pro or anti legislation, but the main focus was on the event quest and it's new champs BPCW, Falcon, and Crossbones.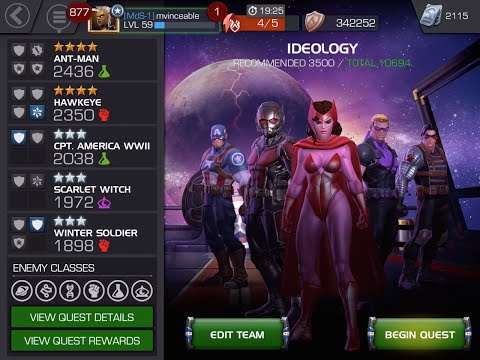 The second part of the Cosmic Civil War storyline,
Cosmic Civil War: Endgame
was the next quest to be released. With it came the introduction of Civil Warrior into the contest of champions.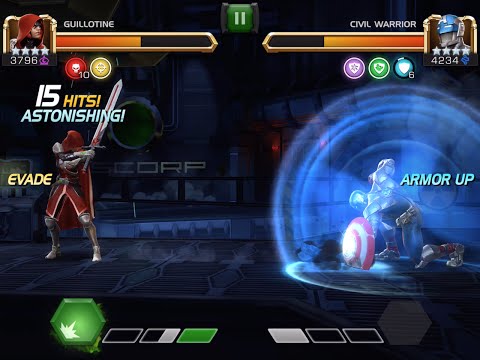 With the release of X-Men Apocalypse came
X-Men: Terrigenocide
the first of three event quests in the Terrigenocide storyline. It gave us Beast, Phoenix, Nightcrawler, and a Weapon X boss, though he wasn't playable till after Act 6 legends runs.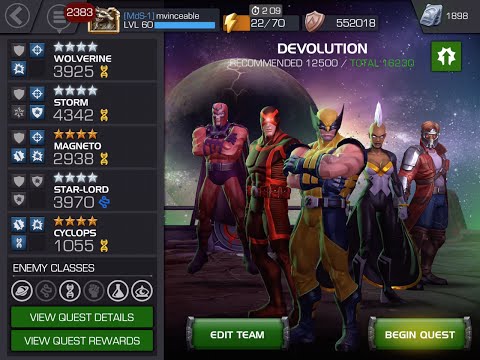 The 15th event quest was released in August of 2016, and it introduced Loki, and the unplayable Grandmaster. The event quest?
Titanomachy
.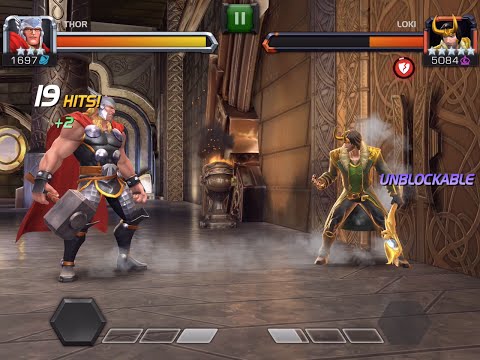 Part 2 of the Terrigenocide storyline, aptly named
Terrigenocide: Part 2
, gave us the unforgettable duo of Gambit and Rogue, along with (sigh) Karnak.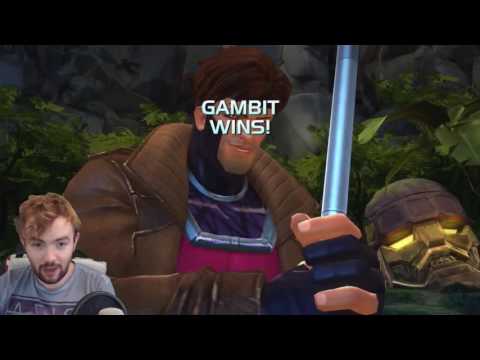 The third and final part to the Terrigenocide storyline,
Terrigenocide: Terminus
, gave the Contest an interesting batch of champions: the unplayable-as-of-now Dark Phoenix, Phoenix herself, and Quake, Destroyer Of Worlds!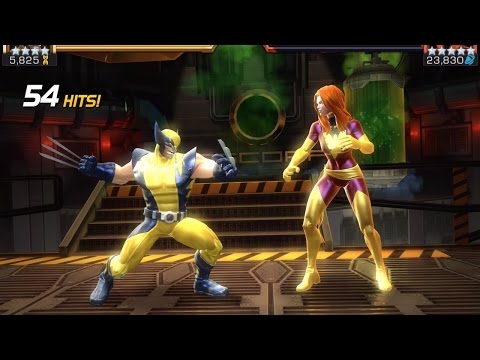 The follow up to the Terrigenocide storyline,
Pandemonium Rising
, was a tie in to Season 4 of Agents of S.H.I.E.L.D., and it gave us Ghost Rider.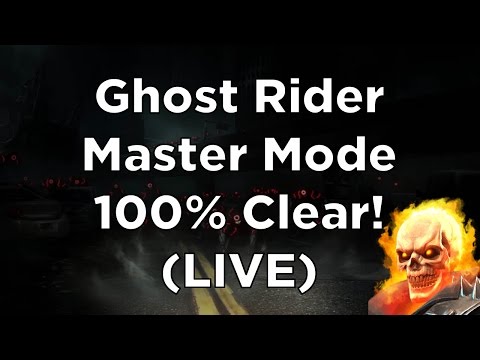 November of 2016 saw the release of Doctor Strange, and with it, a tie-in event quest, this one being
Sorcerer's Conclave
. It gave us Mordo (of course) and one of the top mystics, Doctor Voodoo.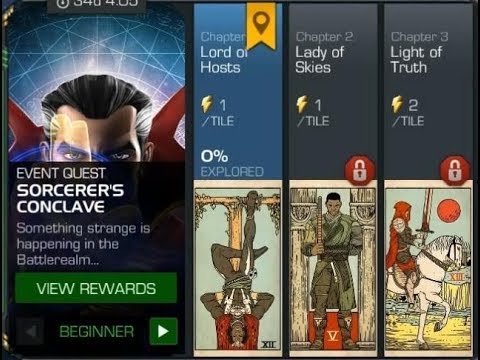 The month after November is of course, December, which means holiday event quest! This time, it was
Howard and Hyperion's Holiday Hijinks
. (Say that ten times fast) It brought to the contest Howard the Duck and Hyperion. (surprise surprise)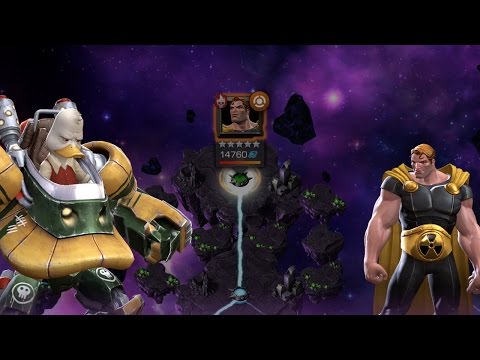 2017 started out by giving the contest Gwenpool and Cable in the event quest
Gwenpool: Agent of C.A.B.L.E.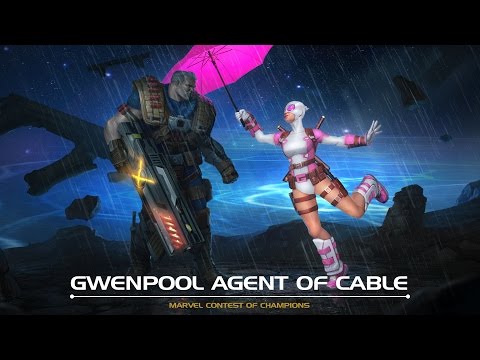 February brought Dormammu and Hood into the fold with
Dawn of Darkness
. Fun fact, the chapter titles for this quest are spelt backwards.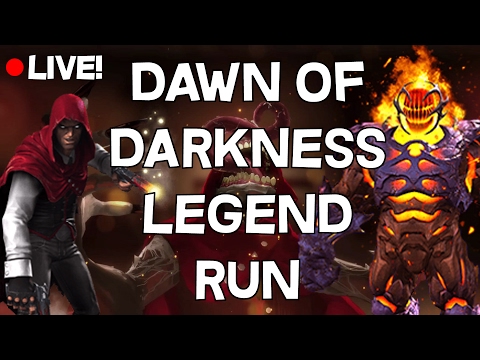 With the release of Logan comes a semi-tie-in quest.
X-Enforcers
gave the contest the mutant champs of Archangel, Iceman, and Psylocke.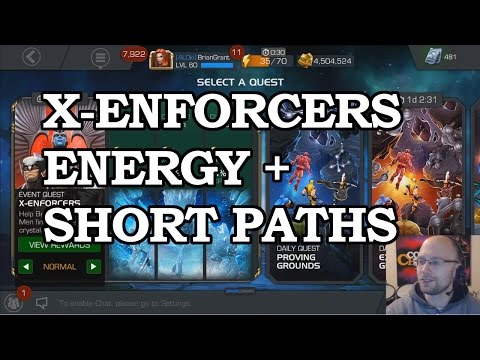 Next, the contest gave us Angela and King Groot in
King Groot's Loot
.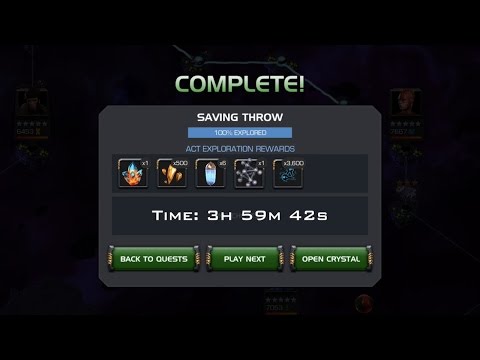 Our next tie-in,
Guardians of the Galaxy Vol. Zero
, introduced Nebula and Yondu to the contest and was a nice tie-in to a nice film. It also had lots of song references, including Smooth Kree-minal and Blue Collar Man.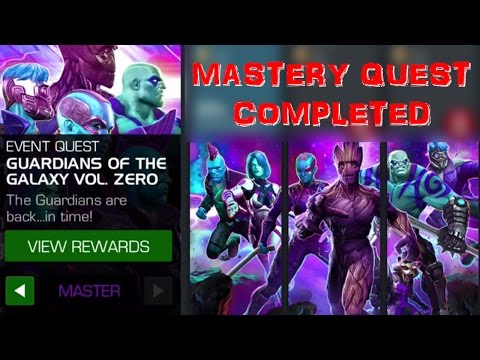 The Secret Empire comic book wasn't so great. It did, however, bring us both Carnage and the soon-to-be-buffed Punisher 2099 in
Secret Empire Forever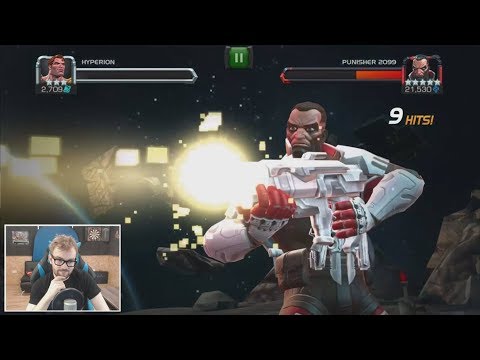 Next,
Battlerealm: Homecoming
celebrated the arrival of Spidey's first MCU solo outing by introducing both Stark Enhanced Spider-Man and Vulture.
Following up Homecoming was
Sinister Foes of Spider-Man
, which finally gave summoners the chance to play as Green Goblin and Doc Ock.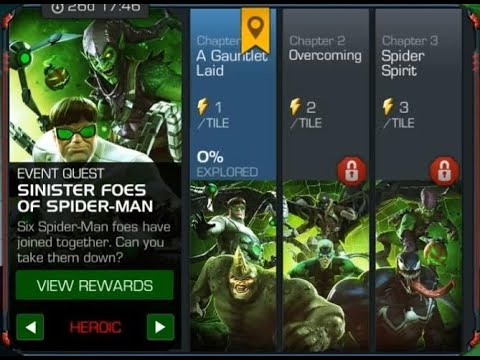 Inhumans season 1, for all it's faults, gave us one of the best cosmics in the game (Medusa) along with Kingpin in the tie-in side quest
Have You Seen This Dog?
Speaking of which, when can we play as the dog? Asking for a friend.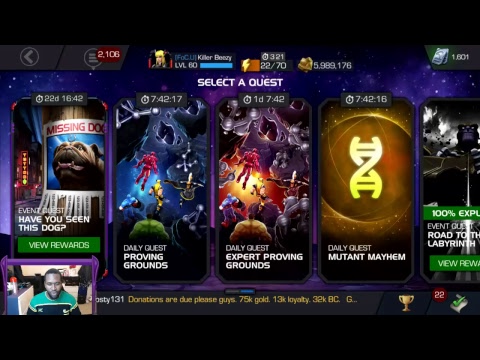 Blades
brought a new Kabam original in Morningstar, along with Blade and Mephisto.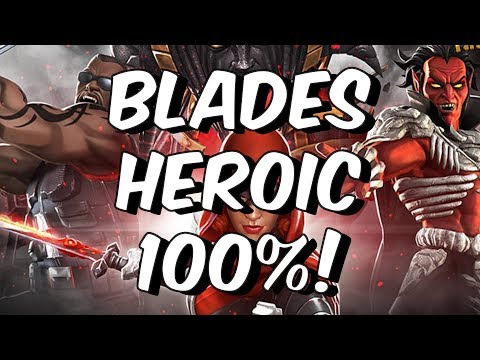 Thor Ragnarok gave us the tie-in
Gods of the Arena
, and with it Thor (Ragnarok) and Hela.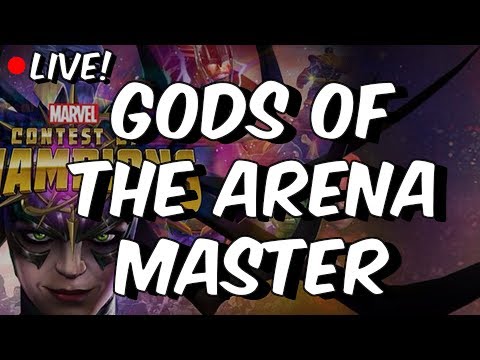 While it finally let us play as M.O.D.O.K. and also introduced Taskmaster,
Hotel M.O.D.O.K.
has the unfortunate distinction of being the first December event quest to not have a holiday theme.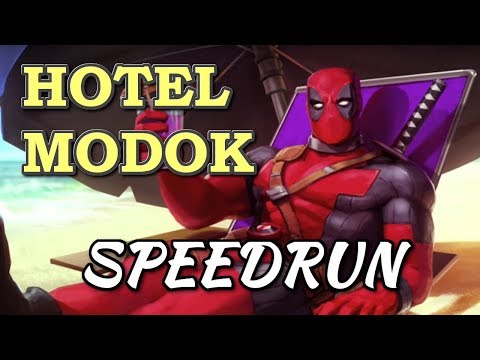 Before we get to the next event quest, here's a couple of links as an interlude. We're halfway through, so break time!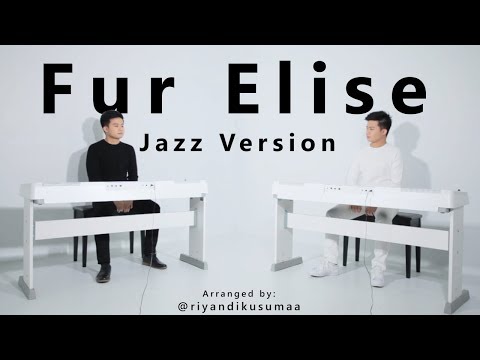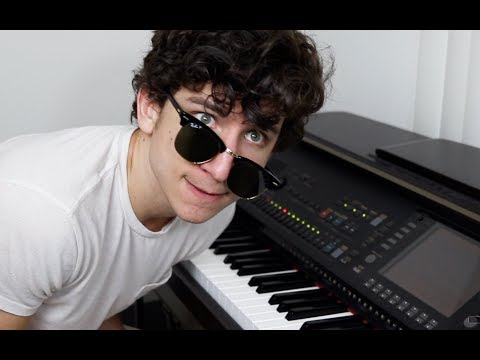 The Age of the Sentry
began 2018 by giving us the champions of Void and Sentry, two undeniable Science gods.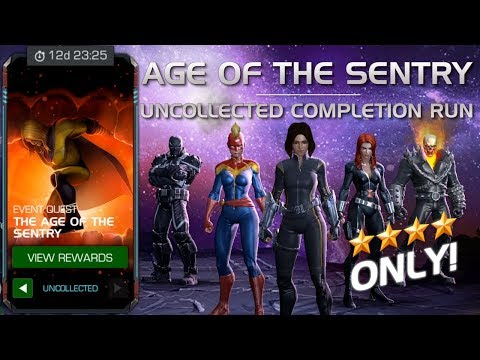 February saw the release of Black Panther, and with it, the tie-in event quest.
Rise of the Black Panther
saw the introductions of Killmonger and Gladiator Hulk to the contest.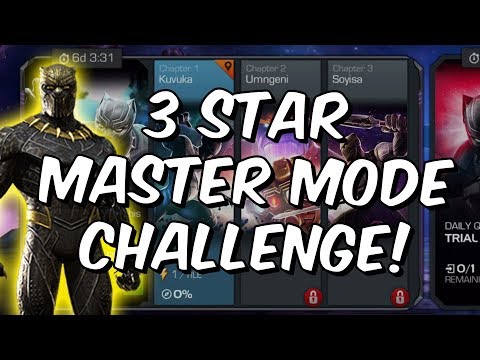 Bishop, Sabretooth, and Sentinel were introduced to the contest in
X-Men: Savage Future
about the savage future of the x-men.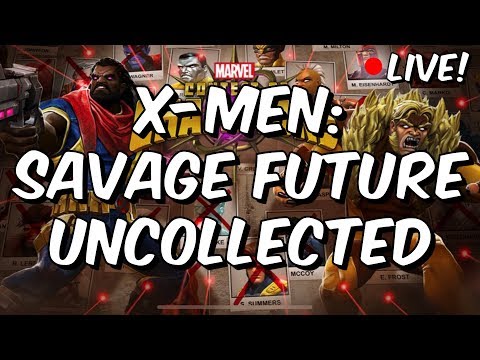 Here we go, Part 1 of the Avengers Infinity War tie-ins.
Infinity Chaos
was the first of two Infinity War themed quests and arrived alongside Corvus Glaive and his wife Proxima Midnight.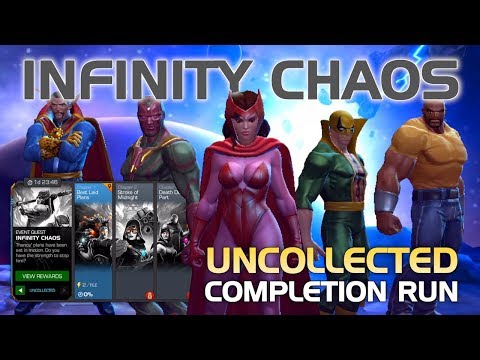 Part 2 of the Infinity War stuff,
Infinity Nightmare
, brought with it Captain America (Infinity War) and Iron Man (Infinity War). And a Thanos boss fight that looks like terrible fun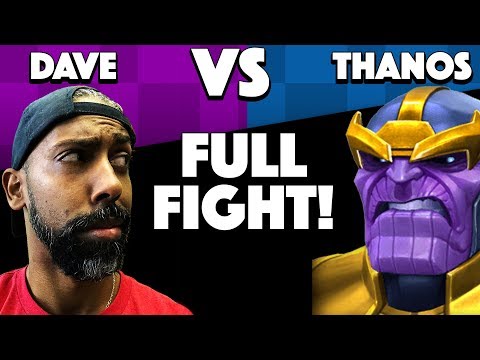 Deadpool 2 is the next tie-in with
Masacre And The Mercs For Money
. Other than the Domino boss, yes please. The chapter names are just hilarious.
I'm Serious, Who is This Guy?
Why are all the Quest Names in Spanish?
ANSWER ME!
oh yeah, Masacre and Domino also came here this month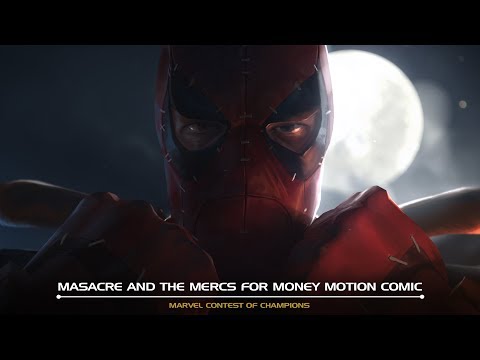 Return to the Micro-Realm
brought us back to the micro-realm from the second event quest, with the introduction of Wasp and Ghost.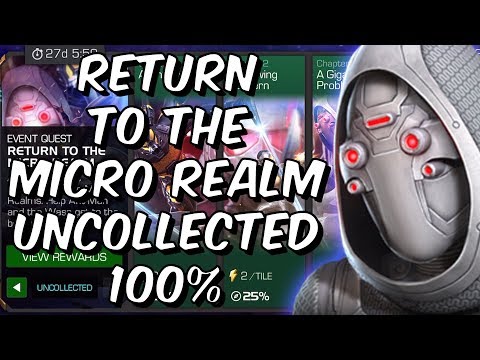 To celebrate the first ten years of Marvel Stud10s (see what I did there),
Enter the Cabal
arrived three new Marvel Studios characters: Korg, Heimdall, and Red Skull.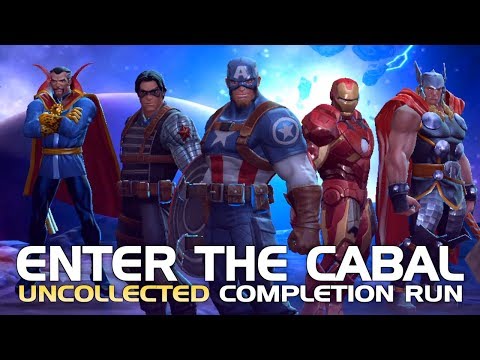 Next, Omega Red and Emma Frost entered the contest in
X-Men: Class Omega
.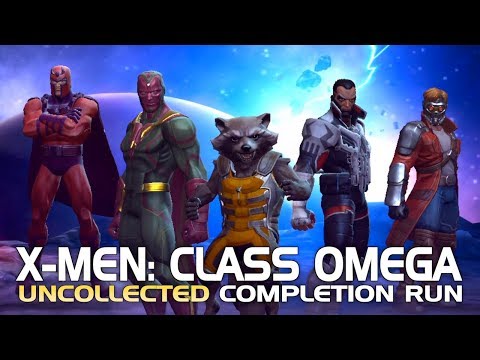 October gave us the Venom movie and it's tie-in of sorts,
Blood and Venom: Symbiomancer
. Arriving with this quest were Venom the Duck and Symbiote Supreme, along with limited time fan favorite Summoned Symbioid.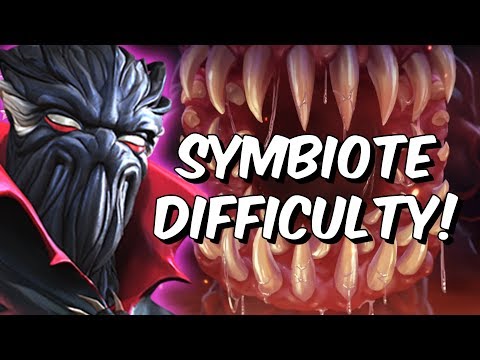 November arrived with even more original Kabam characters, as
Brawl in the Battlerealm
came along with Ӕgon and the Champion.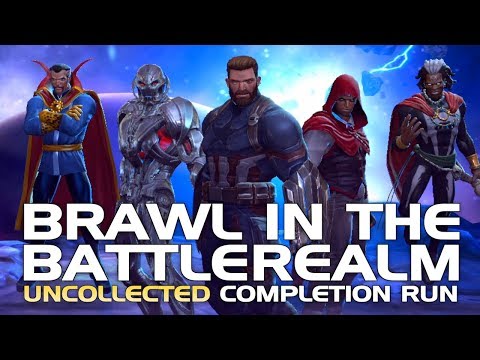 2018 closed out with
Night Riders
, which gave us the duo of Darkhawk and Night Thrasher.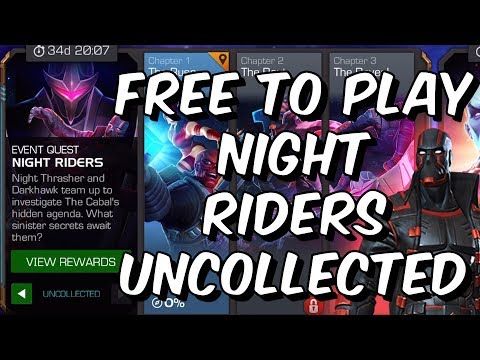 (this is getting to a point where the results are almost completely Seatin vids. It's nuts.)
2019 started off by introducing the first of the Fantastic Four in
This Man… This Monster!
, which brought Diablo and Thing along for the ride.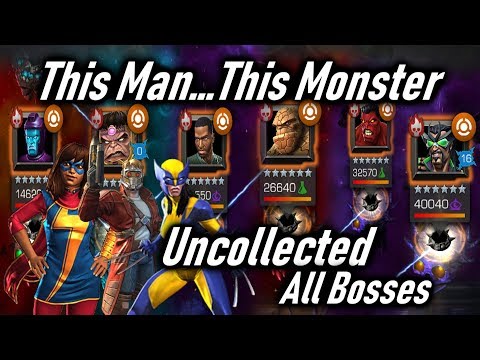 X-Men: Xenoclast
(what a fun title) gave the contest the powerful mutants of Havok and Mr. Sinister, as well as giving us fun words to say. Xenoclast.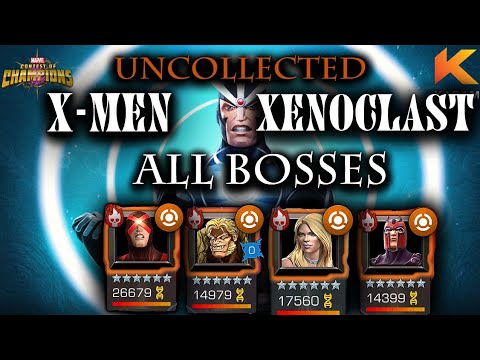 The first tie-in of 2019 was for Captain Marvel, and it was
Battlerealm: Under Siege
. The update also brought along Captain Marvel Movie and Nick Fury.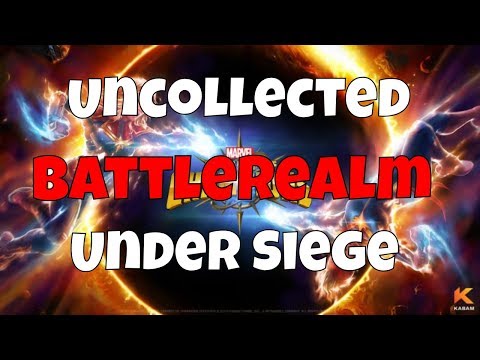 The second member of the Fantastic Four was introduced in
The Living Death Who Walks!
alongside Annihilus. The member? Human Torch.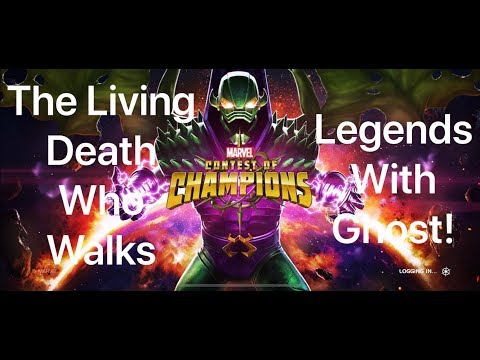 Our next event quest,
Avengers Forever
, was the tie-in to Avengers Endgame. Ronin, Ebony Maw, and Cull Obsidian were all released with this update.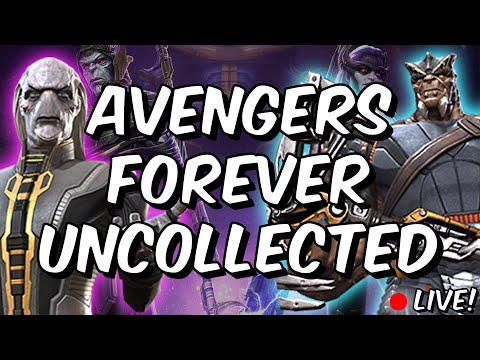 The landmark 50th event quest in MCOC was
Imperius Rex!
, starring Namor and our third Fantastic Four member, Invisible Women.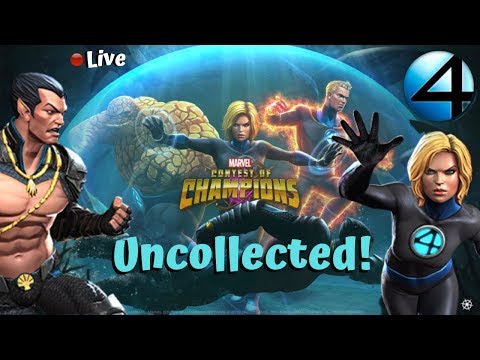 Phantasmagoria
, (another fun word) released alongside Spider-Man: Far From Home, introduced Mysterio and Stealth Suit Spider-Man to the contest. What else happened this month? Yours truly started playing the game.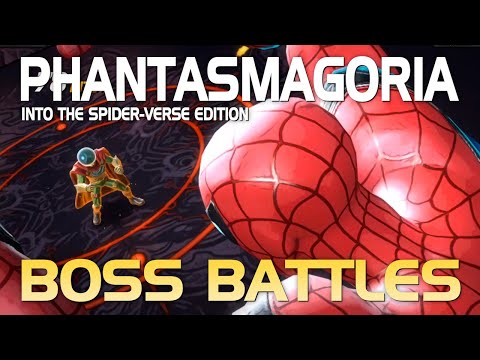 The New Mutants was going to be released in August of last year, and the film was also supposed to have Warlock. Neither of those happened, but at least we got Sunspot and Warlock in the tie-in event
X-Machina
.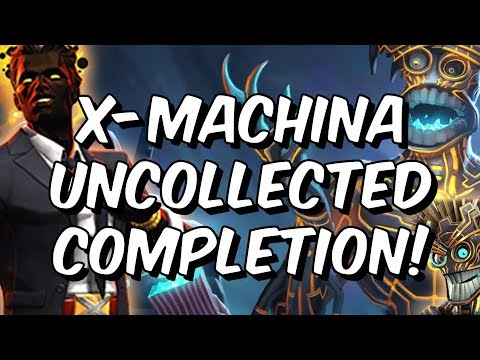 September of 2019 marked the 80 year anniversary of Marvel. To celebrate, Kabam went waaayyyy back and introduced Vision Aarkus and Claire Voyant in
Amazing Fantasy
.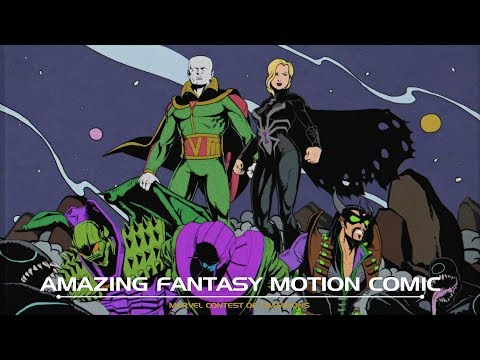 (This. Motion. Comic. Is. AMAZING)
We then get another Kabam original character in Guillotine 2099, released alongside Elsa Bloodstone and Man-Thing in
Guillotine: Future Prometheus
.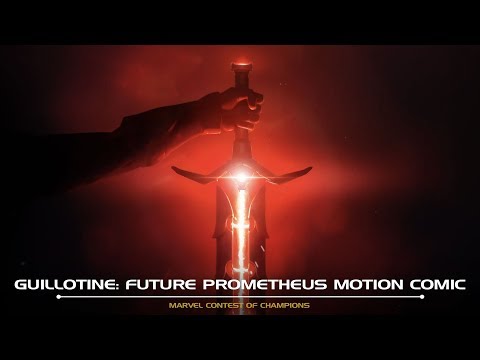 (Amazing comic, yet again)
When Titans Clash!
completed the Fantastic Four with the addition of Mr. Fantastic, as well as his greatest rival, Dr. Doom.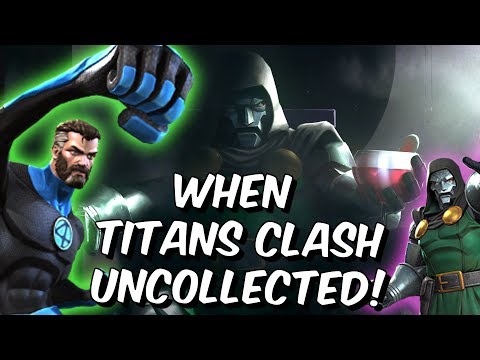 (nobody tell Kabam Miike boys, he's going to lock us down in seconds)
2019 finished with the arrival of Silver Surfer in
The Trial of Reed Richards
.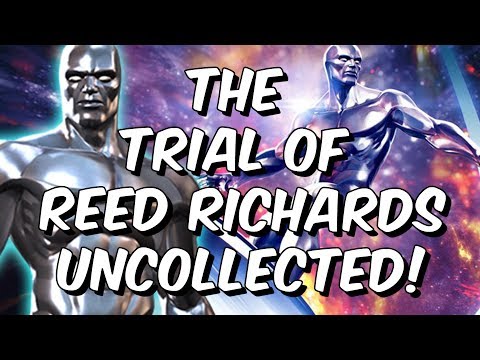 2020 kicked off with the introduction of Nova and the Unbeatable Squirrel Girl, Doreen Green, in
Squirrels vs Skrulls
.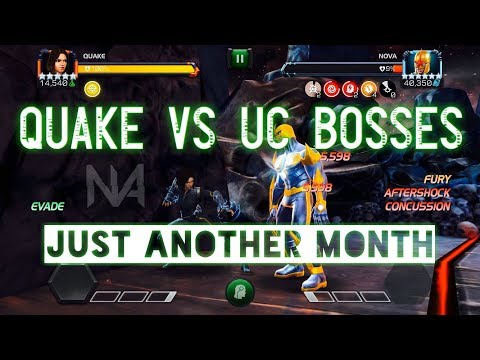 Prince Charming
Longshot and Mojo entered the contest next in
X-Communication
.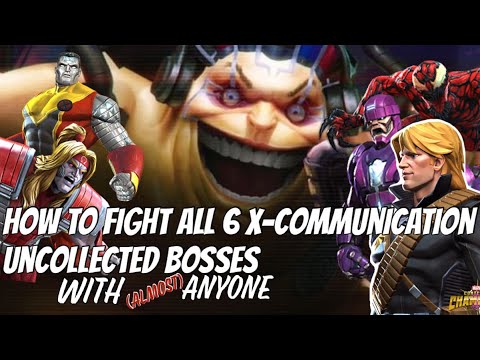 Mole Man and Terrax entered the contest in
Of Rocks and Rodents
, all about Mole Man getting his Mrs. Mole Man.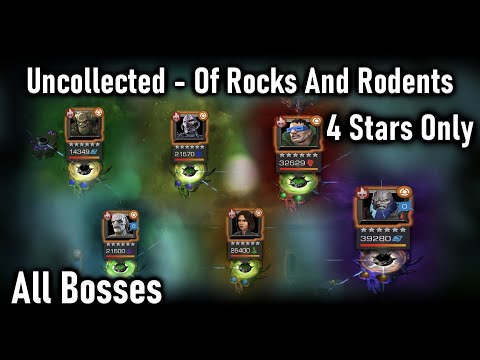 From Beyond
was the tie-in to the upcoming kabam game Marvel Realm of Champions. It brought with it Sorcerer Supreme and Storm (Pyramid X).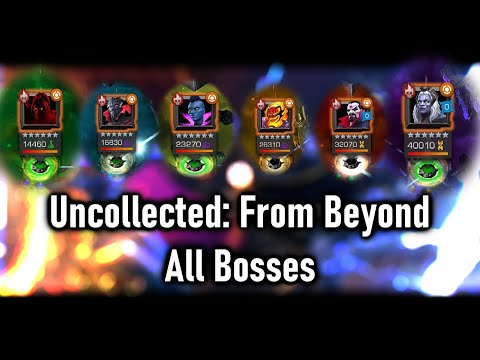 The tie-in to the should've-been-released-by-now Black Widow,
Black Widow: Red by Dawn
came along with Black Widow (Deadly Origin) and Red Guardian. Really makes one wish for a MCU film, doesn't it.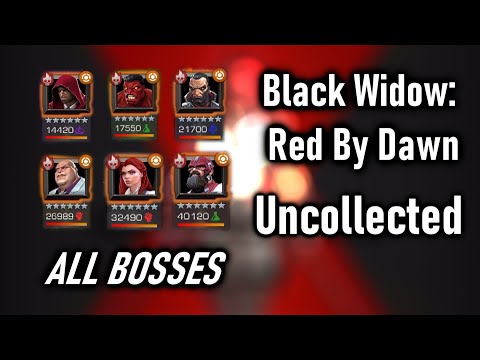 武者修行 - Samurai's Journey
was the follow up to that, giving us Hit Monkey and Tigra.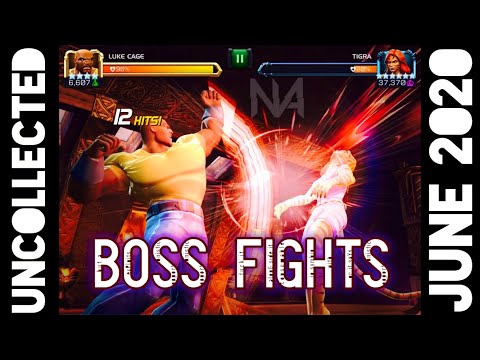 The penultimate event quest of this list,
Missing Links
, was a celebration of Canada, with narration by Deadpool himself. The new champs were also Canadian, those two being the Alpha Flight heroes of Guardian and Sasquatch.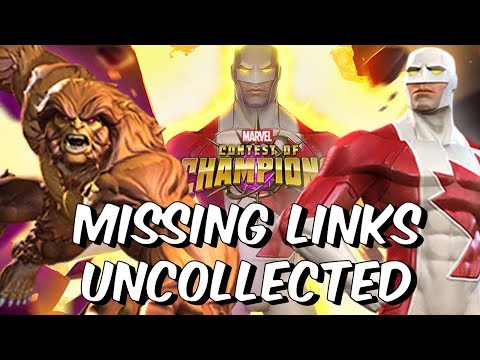 Annunciation of Ruin
is the 64th event quest released by Kabam, and it's a doozy. New champs this month are Dragon Man and Air-Walker.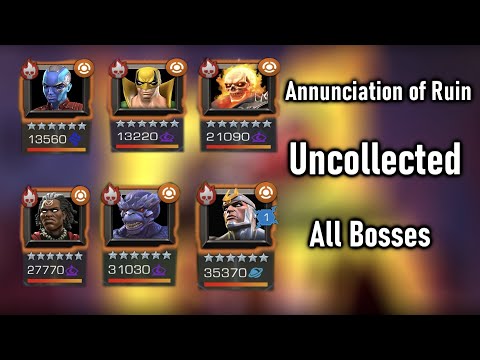 And just like that, it's over. This was a lot of work, so i really hope you enjoyed and liked this insight into MCOC. Gotta go drink some unbranded grape juice and sob over the fact Agents of SHIELD is ending.
Much love,
SpideyFunko
Mystery Link of the Day:
www.youtube.com/watch?v=Hk-II27GApo