Due to issue with the "Not Another Anime Reference" Solo Event, we will be disabling the event for the time being. We will return the event at a future date when the issues have been resolved. We apologize for the inconvenience.
**BANQUET EVENT PSA**
To fully participate in the upcoming Banquet's Alliance Event you will need to be in your alliance for 14 days prior to the event's start date on December 20th. That means, stay in your alliance from December 6th onwards to enjoy all there is to offer in the Banquet event.
Alliance Wars Season 20 - Node 23 & Ebb & Flow - Intercept update. More 5* Shards in Gold 1-Silver 1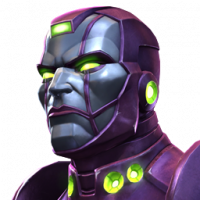 MCOC Team
Posts: 473
Administrator∙Moderator ›
Summoners,

With the start of Alliance Wars Season 20 next week, we'll be making some adjustments that Summoners have been asking for, including an adjustment to rewards for Alliances that place in Gold 1, 2, 3, & Silver 1.
Rewards Update:
At this time, we're only adjusting the number of 5-Star Shards available for Season Rewards in these tiers but keep an eye out for future rewards updates.

Gold 1 - Increased 5-Star Shards from 10,000 to 12,500
Gold 2 - Increased 5-Star Shards from 8000 to 10,000
Gold 3 - Increased 5-Star Shards from 6000 to 7500
Silver 1 - Increased 5-Star Shards from 3500 to 4000
Update to Ebb and Flow - Intercept
We're adjusting the Ebb and Flow - Intercept Buff to give Summoners a greater benefit when playing optimally.

The new description will read: The Defender has Protection, reducing all incoming damage by 60%. Intercepting the Defender removes the Protection and grants the Attacker a Fury Passive, increasing Attack Rating by 40% for 12 second(s). When the Fury expires, the Protection returns, and all Debuffs on the Defender are Purified.

Note: There is a visual error with the description of the Buff in-game at this time. The Buff description indicates that the increase is 30% instead of 40%, but the Buff does work as intended.
Removing Oscillate from Node 23
Oscillate will be switched out on Node 23 across the following 3 Maps:

Expert Map: Replaced Oscillate with Power Focus 1
Challenger Map: Replaced Oscillate with Power Focus 1
Hard Map: Replaced Oscillate with Special 1 Bias

Alliance Wars Season 20 kicks off on August 19th, but these Buff and Node Changes will be live today! Prepare your Alliance!