Champion Spotlight - Nebula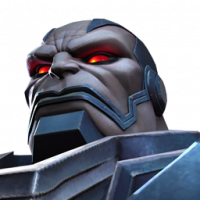 Kabam Miike
Posts: 6,387
Administrator ›
The fearsome daughter of Thanos has arrived! Find out everything you need to know about Nebula, here: https://playcontestofchampions.com/c...tlight-nebula/

FAQ

Are there a maximum amount of Electroshock charges she can generate?
She can generate up to 20

Is there any way for her to lose Electroshock charges before using them? (like Gambit)
Nope! Unless she transfers them to the opponent.

Are there a maximum amount of Shock Debuffs she can place on her opponent? (like X-23's bleed cap)
Not really... Well... 99, but basically no limit.

Can you clarify how her Sp2 works?
It removes the other existing stacks of Shock and applies double the original number at the enhanced 972 damage per shock on the opponent.

Example:

- 20 Shocks on the opponent doing 486 damage Per Shock
- Use her SP2
- Those 20 are deleted, and replaced with 40 stacks of Shocks on the opponent dealing 972 per shock.