Summoners, due to a technical issue, this week's series of Alliance Quests will be cancelled at 4pm PT. There will not be any Rewards for this series. The next series of Alliance Quests will start on April 18 at 12pm PT. We will be assessing the impact on Alliances and compensating accordingly, as well as returning Alliance Tickets.
As Daft Punk said, "The Game has Changed"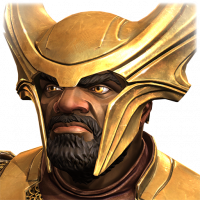 ẞlооd
Posts: 1,936
★★★★
Boys, I don't usually make brag posts, but I'm super hyped today because I just got a crazy surprise for Christmas. I just found my ticket to Thronebreaker!
I've been slowly grinding away for 6* mystics that I could eventually R3, because back when I started clearing content for T5CC I had a small 6* roster. I randomly committed to mystic with my selectors because I had nothing worthy of R3 in any class.. We'll, today that champ landed on my doorstep!
Happiest I've been from a 6* pull so far. Gonna start working on 7.1 exploration for that selector. Wish me luck on the random-class crystal! And Merry Christmas everyone 😆