Difficulty of all labyrinth of legends paths ranked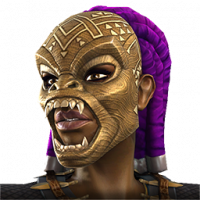 Giuliameij
Posts: 847
★★★
Hi Guys,
Just tonight I did my second path in labyrinth. A couple of months back I did my initial clear with my Colossus and I really like it. But knew I couldn`t do 100% with just him. The first crystal after my initial clear got me an Aegon thou. And he already did my initial abyss run for me. After doing that, and completing act 7 I felt like taking some time of of end game questing. And allongside event quests I want to start doing a path of labyrinth every sunday when there are no worthwhile arenas.
I was just wondering what you would rate the difficulty of all paths, as per Kiryu v2.2 (attached)
Please rate them from 1 to 7. Or if there is no difference between paths, less ofcourse.
The easy path was really easy, and the second path wasn`t that bad either. Did use 15 revives, but that was mostly because I went in with hardly any potions, so I took a lot of unnecesary damage on blocks etc.
My general team will be: Aegon, Heimdall, Nick Fury, Deadpool, Quake.
so for my right now, with 1 being the easiest:
1: Path 1
2: Path 2
3: ???
thnx