Summoners, earlier today we encountered an issue that prevented anybody from entering Alliance Quests. We have now fixed the issue, and Alliance Quests will start at 2pm PT (2 hours later than usual).

We apologize for the inconvenience and appreciate your patience. To help ensure that this time shift does not negatively affect Alliances, we will be adjusting the AQ energy timer to 30 minutes for this series.
Any ideas about this PI change?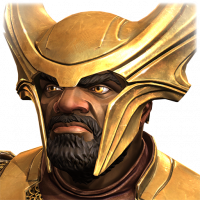 ẞlооd
Posts: 1,936
★★★★
Just noticed today that my 6* Vision Aarkus wasn't in my top 4 anymore, and have no idea why. No boosts running in either pic, and no mastery changes..
Here's a screenshot from January 3rd with him at 13,650
And here he is now at 12,830
What the heck could cause this lol