Summoners, due to a technical issue, this week's series of Alliance Quests will be cancelled at 4pm PT. There will not be any Rewards for this series. The next series of Alliance Quests will start on April 18 at 12pm PT. We will be assessing the impact on Alliances and compensating accordingly, as well as returning Alliance Tickets.
6.1 Caustic Temper finally done!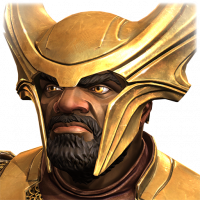 ẞlооd
Posts: 1,937
★★★★
Never thought I'd do this path without the proper counters, but made it work with what I had. I don't have Hype, Medusa, or the Heimdall synergy so I've been sitting on this path forever.
Mad shout out to my unduped OG hulk and 300 combo Aegon. Surprisingly took only 3 L1's too. So, this is definitely a viable option if anyone is stuck in similar shoes. Just be prepared to play Aegon like your life depends on it to get that combo up.
Post edited by Kabam Porthos on