Scarlet Witch Sigil?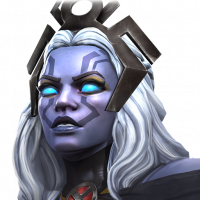 Pin_the_AvengerPGT17
Posts: 208
★
Honestly, Scarlet Witch has got to be one of my favorite characters after the series finale of WandaVision, and I doubt I'm the only one who thinks that.

Scarlet Witch (Sigil) looks so similar to post WandaVision's The Scarlet Witch. That being said, can Scarlet Witch (Sigil) PLEASE be released as a playable champ. She was on the loading screen for December's release of the hilariously powerful Spider-Ham and on the 2020 champion wallpaper with all the other champs released that year. She does pop up as a champ obstacle in the monthly and she had some dialogue in December's monthly.

I don't care if she is a trophy Champ or a regular champ, I just want to see her as playable.