Earlier today, there was an issue where Summoners that logged on shortly after the Login Calendar switched over for the day didn't receive the Cosmic Ghost Rider login crystal. We've fixed the issue for players receiving the crystal now but will have to collect data and send out the crystal to all players that didn't receive it next week. We apologize for this inconvenience and look forward to making it right for you all.
Can anyone explain what's going on with v7 Dr Strange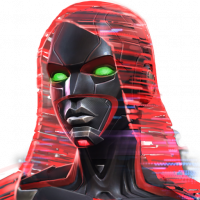 SwarmOfRavens
Posts: 1,160
★★★★★
Decided to finally get around to variant 7 exploration then encountered this monster in chapter 3
https://streamable.com/hus8h2
2 hits take him straight to sp3 and he one shots everything, thankfully had quake to bypass whatever was going on there.
Don't know what kind of spaghetti code made strange actually good but I'd like it applied to my 6*