**BANQUET EVENT PSA**
To fully participate in the upcoming Banquet's Alliance Event you will need to be in your alliance for 14 days prior to the event's start date on December 20th. That means, stay in your alliance from December 6th onwards to enjoy all there is to offer in the Banquet event.
**Not Another Anime Reference Solo Event Returning**
This solo event has been fixed and will appear in game again on December 10th and will run through the 17th.
Reminder: This event is available to Paragon+ Summoners
INCOMING BUG FIX:

We'll fixing an issue with the Side Quests where all difficulties had the same Selector rewards.

We've fixed the Selectors in Threat Levels 4, 3, 2 and 1 to no longer contain rewards for Progression levels above the target audience.

Threat Level 4 rewards cap out at Thronebreaker
Threat Level 3 caps out at Cavalier
Threat Level 2 caps out at Uncollected
And Threat Level 1 has rewards for Proven
Predict May's 3rd buff!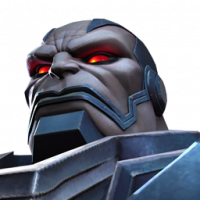 KDSuperFlash10
Posts: 5,869
★★★★★
Black Panther OG has been confirmed for an overhaul. I'm also assuming that Odin will be taking up one of the 3 slots (tune-up most likely), but I hope he's a 4th slot because they added him late. But if we're assuming he's not taking up an extra slot, that leaves 1 buff slot left.

You all have 1 guess. Come Friday we'll see who the most intellectual visionaries in this discussion are!

I'll start: Vulture

P.S. Remember that the overhaul spot has already been taken, so don't choose very old champs with barebones kits that need full overhauls. Choose champs that would be considered for moderate updates/tune ups (most likely the former). Be smart!