Champion Spotlight - Ebony Maw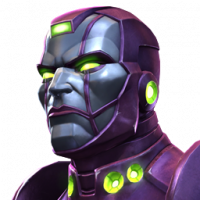 MCOC Team
Posts: 410
Administrator∙Moderator ›
About Ebony Maw
A master of manipulation and overall evil genius, Ebony Maw is Thanos's most trusted lieutenant, never failing him even once. Focusing on his strong telekinetic abilities rather than raw physical strength, Ebony Maw curves and bends the environment around him with ease. Additionally, his superhumanly persuasive voice allows him to sway even the strongest minds.
Ebony Maw's Mechanics

Lacking raw physical strength, Ebony Maw uses his telekinetic abilities to strike his Opponent, which can make it quite challenging to Parry him since only his Light 1 makes contact. Additionally, if given the time to focus on his opponent, Ebony Maw will begin to persuade them, causing them to falter and Miss Attacks. If Ebony Maw is able to fully persuade his opponent, he digs even deeper into their mind.

BASE STATS & ABILITIES
| | | | |
| --- | --- | --- | --- |
|   |  Health |  Attack |  PI (Max Signature) |
|  3-Star |  5760 |  472 |  1903 |
|  4-Star |  14444 |  1182 |  4775 |
|  5-Star |  28960 |  2369 |  10540 |
|  6-Star (Rank 3, Level 45) |  37316 |  3052 |  13560 |
Character Class: Mystic
Basic Abilities: Power Steal, Degeneration, Falter, Nullify
STRENGTHS:
Miss

Ebony Maw is one slippery fellow, cruising through any fight with ease if you can manage his Falter!


Degeneration

Ebony Maw's updated kit can now deal even more Degeneration Damage than before. Maximize it with bonus Degeneration on the Special 2 and deal some massive damage.

WEAKNESSES:
Anti-Miss

If Ebony Maw can't make the Opponent Miss he's going to lose out on a lot of his damage!


Non-Damaging Debuffs

Ebony Maw will have a significantly harder time keeping his focus if you can knock him down while he has non-damaging Debuffs applied to him!

ABILITIES:
The following Stats and Abilities are based on a Rank 5, Level 65, 5-Star Champion

Always Active:
Ebony Maw's first Light Attack is the only Basic hit to make contact with the Opponent.

If the Opponent doesn't have Class Advantage, Ebony Maw causes all guaranteed Critical Hits to Miss.

Missions from Thanos
Ebony Maw has 3 Missions to complete. Each Mission can only be completed once per fight and when successful will inflict a Passive Degeneration, dealing 7580.8 Direct Damage over 4 seconds, this scales with Base Attack only.


Mission 1: Mastermind : Nullify a Buff from the Opponent.

Mission 2: Manipulator : Inflict a Power Steal effect.

Mission 3: Unwavering : Cause the Opponent to Miss.


Completing all 3 Missions in a single fight grants 1 Persistent Charge, each increasing the duration of Degeneration effects by 10% and reducing the Opponent's Fury effects by 25% for the rest of the quest. Persistence Charges stack up to a max of 4.

Dev Notes: These Missions are key to Ebony Maw dealing some massive damage, make sure to complete them all every chance you get!
Heavy Attacks
Landing a Heavy Attack steals all the Opponent's Power gain Buffs and 10% of their current Power.

Persuasive Voice:
Become Focused after 7 seconds, this time is doubled while suffering from a non-damaging Debuff. While Ebony Maw is Focusing, the Opponent's Ability Power Rate is reduced by 60%.

If knocked down by a Heavy Attack or Special Attack 3, Focus is broken and re-focusing begins after 1 second(s).
Once Focused, the Opponent gains 1 Persuasion every 0.60 seconds.

Every 20th Persuasion the Opponent gains will inflict a Falter Debuff for 3 seconds, giving them a 100% chance to Miss. This duration is increased to 4 seconds against Cosmic Opponents.

At 100 Persuasion the Opponent is inflicted with Black Tongue for the rest of the fight, reducing Power Gained from all sources by 40% and increasing Ebony Maw's Attack Rating by +947.6.

When Black Tongue is active, inflict the above Falter Debuff every 15 seconds.

SPECIAL ATTACKS
Special 1 - Unseen Blades
When activated and with each hit, Ebony Maw Nullifies 1 Fury, Cruelty, or Precision Buff from the Opponent. This expands to all Buffs if the Opponent is inflicted with Black Tongue.

If no Buffs were Nullified during this Attack, the Opponent gains a Fury Buff increasing their Attack Rating by 0 for 10 seconds.

Special 2 - Environmental Manipulation
Each hit inflicts a Passive Degeneration, dealing 3056.01 Direct Damage over 4 seconds. If the Opponent is suffering from a Falter effect, each hit inflicts 2 additional Degenerations.

The final hit refreshes any active Falter Debuffs.

Dev Notes: Make sure to maximize your damage by pairing this with a Falter on the opponent and land a ton of Degeneration damage!
Special 3 - Microsurgery Paralysis
This Attack grants no Power to the Opponent.

Steal 100% of the Opponent's Power and gain a Power Gain Buff, granting 40% of the Power stolen over 5 seconds.

Signature Ability - Deteriorating Mind:
When the Opponent Misses an Attack they are inflicted with a Passive Degeneration, dealing 947.61 Direct Damage over 1 seconds.

While the Opponent is suffering from a Falter Debuff their Auto-Block Ability Accuracy is reduced by 100% and Ebony Maw gains +40% Ability Power Rate.

SYNERGY BONUSES
Lieutenants of the Black Order - Team Synergy
- Unique - with Corvus Glaive, Cull Obsidian, Proxima Midnight
All Members of Thanos Army: When the fight starts, gain a True Damage Buff allowing all Attacks to bypass Armor and Resistances for 30 seconds.

Cull of the Maw
- Unique - with Cull Obsidian
Ebony Maw: Charging a Heavy Attack for 0.5 seconds grants the Opponent an indefinite Fury Buff, increasing their Attack Rating by 0%.

Cull Obsidian: When 1 or more Thanos' Favor Buffs expire, gain a Fury Buff granting 10% Attack for 10 seconds. Fury Buffs gained in this way will not stack.

Enemies
- with Iron Man (Infinity War), Doctor Strange, Hulk (Ragnarok) Spider-Man (Classic)
All Champions gain +155 Critical Rating.

Enemies
- with Thor (Ragnarok), Heimdall, Loki
All Champions gain +155 Critical Rating.

UPDATED SYNERGIES
Miss Me?
- Stryfe, Ebony Maw
Gain +15% Attack Rating while the Opponent is suffering from a Falter Debuff.

The High Ground
- Air-Walker, Ebony Maw, Green Goblin, Phoenix
Air-Walker: Heavy Charging increases Ability Power Rate by an additional 150%, reduced by 50% for each Persistent Power Cosmic Air-Walker has.

Ebony Maw: Start the fight Focused and Persuade the Opponent 15% quicker.

Green Goblin: Special Attack 1 Laser Blasts have +40% flat chance to Power Drain.

Phoenix: While Empowered, Heavy Attacks also refresh Phoenix's Armor Break Debuffs.

RECOMMENDED MASTERIES
Mystic Dispersion
Ebony Maw can Nullify a ton of Buffs in a fight allowing him to build Power quite rapidly, he's even able to Nullify Buffs from Opponents who don't use Buffs in their base kit by launching two Special 1 Attacks one after the other, or by activating his synergy with Cull Obsidian and charging heavy Attacks.

Willpower
One of Ebony Maw's biggest weaknesses are Debuffs, and in particular non-damaging Debuffs . Since he has no way to deal with these, having Willpower is useful to grant some protection while the effect is active lessening their negative impact.

Post edited by Kabam Zibiit on