Enter the Grandmaster's Gauntlet!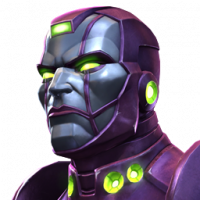 MCOC Team
Posts: 359
Administrator∙Moderator ›
For those that broke the throne, explored the depths of the Abyss, and have no peaks left to conquer, the Grandmaster issues you a Challenge…
Enter the Grandmaster's Gauntlet!
This brutal challenge unlike any other will run from
June 2 at 10 AM PT until June 23 at 10 AM PT.
PLEASE NOTE: Our release notes originally indicated the Grandmaster's Gauntlet would be available for 31 days. This was incorrect.
The Grandmaster has bent every rule in the book and placed every wicked twist he could come up with into this single challenging quest. Composed of 20 fights and a single final boss, The Grandmaster's Gauntlet is built for only the strongest and most clever Summoners, and as such will only be available to those who have earned the title of Thronebreaker.
Structure
This 20 fight Quest consists of a single path, broken into 4 sections of 5 fights each (plus 1 Final Boss). At the end of Sections 1-3, you'll find a fork that separates the path into 2.
One path contains a portal that will transport you directly to the Boss, defeating which allows you to claim all of the rewards from the chests that you have gathered.
The other path contains a reward chest and a portal to the next Section.
This means to obtain the rewards in the Chest, you will need to continue to the next section, where you'll once again have the choice of continuing or taking the exit. The final section will not branch in 2 and will lead you to the final boss.
This means that in order to get any rewards at all from these Chests, you will need to complete at least 10 fights.
If you exit or finish the quest, you will start from the beginning next time you enter. That means to get the best rewards from the final chest, you will have to beat all of these fights, back to back!
For example, if you complete the first 2 Sections, and choose to exit instead of continuing on, you will start from the very beginning, and must complete those 2 paths again before moving on to the 3rd and 4th sections!
The Challenge
This is an extreme challenge, designed to test the RPG knowledge, the ability to construct a worthy team, and the raw skill of our Top Summoners. Each fight is built with a specific intent in mind, but the Sections do not necessarily have any straightforward theme or simple RPG counters. This makes each fight a distinct challenge unto itself, and no single team or Champion the perfect counter to a section or the entire quest! Therein lies the crux of the difficulty!
It's always hard to pin down the exact level of difficulty of a Quest, but the goal for this Quest is to be a challenge similar to that of Abyss, if not a little more challenging, but the focus is not on large Health Pools in the Millions, but difficult Buffs and Nodes that enhance already challenging Base kits. Shorter, more intense fights with their own unique complications, and an antagonistic level design that demands you persevere to be rewarded.
Encounters
Oh no, we're not going to give it all away! But to give everybody a taste of what to expect, we will reveal the final Boss and the first path of fights:
Final Boss:
Nameless (Thanos)
300% Champion Boost

1000% Health Boost


Path 1
Dr Doom
Bubble Shield 1

Particle Protector 2.5

Micro-Reflect

Size Matters

Terrax
Powerful from Afar

Energize 2

Galactic Intervention - 3

Vision
Power Bond

Surging Vengence

Minor Aspect of Death

MODOK
Hard Knock Life - 4

Stun Vulnerability

Chair Larceny

Specialist 1

Enhanced Special 1

Spider-Ham
Energize (2x2)

Power Bond

Defensive

Immunity

Rewards
For Completion of the Grandmaster's Gauntlet, Summoners will receive a small reward from the Grandmaster, but remember that the greatest rewards are in the Chests found in each section!
Completion:
1x 6-Star Rank 1->2 Rank Up Gem Crystal
4x Tier 2 Alpha Catalysts
5000x 6-Star Hero Crystal Shards
250,000 Gold
Chest 1:
1x 6-Star Rank 1->2 Rank Up Gem (Generic)
8x Tier 2 Alpha Catalysts
10,000x 6-Star Hero Crystal Shards
500,000 Gold
Chest 2:
1x Tier 5 Class Catalyst Fragment Selector (25%)
3x Tier 5 Basic Catalysts
15,000x 6-Star Hero Crystal Shards
750,000 Gold
Chest 3:
20,250x Tier 3 Alpha Catalyst Fragments
1x Tier 5 Class Catalyst Fragment Selector (25%)
1x 6-Star Nexus Hero Crystal
1,000,000 Gold
Chest 4:
34,200x Tier 6 Basic Catalyst Fragments
1x Tier 5 Class Catalyst Selector
50x 6-Star Signature Stones (Generic)
2,000,000 Gold
The Challenge will Return
Unlike some of our other high-difficulty content, this challenge is only temporary. But don't worry if you can't complete it just yet! The Grandmaster will extend his challenge again in the future for even more Summoners to take on!
Any progress that you have made will be carried forward. That means that if you have already completed the entire quest, you will not be able to repeat it for more rewards. If you have collected 1 or 2 Chests, when the Challenge returns, those Chests will not be available to you again.

This challenge is not for the unprepared, Summoner! If you have not 100% explored all Content in-game, we suggest that you take those on before diving into the Gauntlet!
Post edited by Kabam Miike on