Medusa buff idea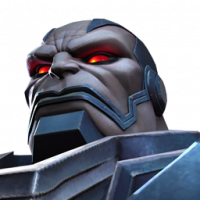 MaxtheSilent
Posts: 561
★★★
Last night I had Medusa as an option in a 5* Nexus and I chose Terrax instead. But I thought about what Medusa would need for me to pick her. I used to use her as a 4* all the time. I love her but she doesn't quite meet the bar for a solid 2021 champ. Here are my ideas to bring her in line with more modern champs :
* Make Royal Family synergy benefits part of her base kit. She needs them to be decent but they aren't worth the slots the take. Once added let the Inhuman synergy now give her increases buff and debuff potency.
* Make her bleed on armor shatter be a degen for #robot champions. People use her for robots but they're bleed immune.
* Let her auto-block be on a cool down timer not consume her fury buffs.
* Give her a synergy with Prof X, Namor BP classic and King Groot , called Sovereign, that lets her apply a slow when armor shatter is in effect

I think these changes would make her viable while still balanced. I'd love to hear your thoughts!
Post edited by Kabam Zibiit on