Earlier today, there was an issue where Summoners that logged on shortly after the Login Calendar switched over for the day didn't receive the Cosmic Ghost Rider login crystal. We've fixed the issue for players receiving the crystal now but will have to collect data and send out the crystal to all players that didn't receive it next week. We apologize for this inconvenience and look forward to making it right for you all.
Dude!!! I cannot believe my cav luck today!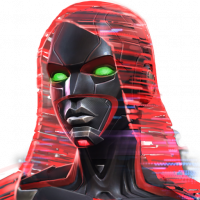 Kill_Grey
Posts: 8,671
★★★★★
Was taking a nap this evening. Woke up so I could get some reading done, then decided to turn on my LTE and check what was going on in my line chat. On one of my mcoc groups, I learned that the rotating Cavs had started to feature. Turns out that the first iteration features G99 (my bae 🌚). Then there was someone in the group who said that he got some insane luck from those cavs, pulling 2 6*s from like 5 crystals or something. Then over in my ally group, I also got to know about the Cavs from one of my friends who knows about how much I want a 6* Guilly. So yeah, after a good 10 minutes of bickering and temptation, I succumbed.
Only thing is that I only had 2.8k units or so. I knew I could only get the first deal on July 4th regardless, but my predisposition was to then use the remaining units for act 6 exploration after buying the 1k deal.
After taking a good long look at the Cavs, I decided to start with the first one. 300 units out of the stash, and the results were... A 5* G99 dupe. Now she's Sig 60, but not quite the rarity I wanted, eh? Welp, decided that all hope isn't quite lost, and went for another. This yielded a 5* nexus! A little more interesting. This was quite a good nexus, and allowed me to awaken namor. Pretty good! Anyways, decided to go for yet another cav, and got myself a... Falcon dupe. Been looking for a dupe on him as well. I realized that all the 5* dupes gave me a 6* basic crystal immediately. So yeah, hopped over to the shards tab, and purchased the 6*. I rarely spun 6*s because of my awful luck; this time, I decided to take advantage of the string of (insert some flashy English word of which I can't think of right now). So yeah, I put it in the spinner, and tapped after 5 seconds or so. As it slowed down, I wasn't even looking at the reel. All I know is that it settled on my most wanted champ for a long time (excluding 6* Guilly of course) - a freaking. Red. Magneto!!!
That was surely the highlight. The first "bgt" 6* I've gotten. 6* crystal #40 is a freaking. Red. Magneto! I remember lamenting after the 7.2.1 modok boss disgraced me of how much I wanted a 6* mags even more. And now, I finally have him. My roster is now completely rounded (more or less), and mags is going straight to rank 3 (welp, soon anyway. Still need 10% of a mutant t5cc :P. And a ton of iso. But I have a mutant 1-2 gem I'd been saving for him).
Now, let's carry on, don't wanna make this much longer. But we're not even done yet. I did open yet another cav, and got... Another 5* nexus?! Shocking to get 2 in 4 crystals, lol. That's more than I'd get after a month of war season nowadays (#PlatRewardsNeedChange). But this nexus gave me a new sentinel. It's funny how I finally get the variant lords in Venom and sentinel
after
exploring them all, but no complaints regardless. In the spirit of greediness, I opened two more Cavs and got myself 3*s
. But dear God, was I unbelievably lucky!
Missed out on 6* Guilly, but I believe I'll get her someday. Decided not to go below 1k units so I could still salvage it for July 4th. Here's a summary of the pulls:
Thanks for reading through, and have a great day/night!