**KNOWN ISSUE**
Currently, Alliance Prestige (as it concerns Alliance Quests) is not taking Relic Prestige into account. If possible, we are working to address this for the next round of Alliance Quests but will have more information for you when it is available.
Facial expressions during Professor X sp3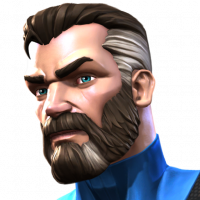 o_o
Posts: 265
★★★
There's a whole range of facial reactions to Professor X's sp3. Based on some preliminary research, these seem to fall into 9 categories. Here they are, in ascending order of intensity.
1) Indifference
2) Sleepiness
3) Obliviousness
4) Mild discomfort
5) Medium discomfort (aka toothy version)
6) Confusion
7) Indignation
8) Anger
9) Abject terror
That is all