Act 5 Discussion - Earning Grandmaster Favour (or is it favor?)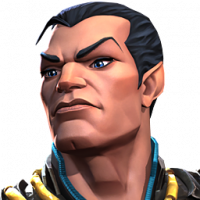 winterthur
Posts: 5,331
★★★★★
Here is another compilation of Act 5 discussions. Appreciate help to add on.
If I remember well, Act 5 was announced and then rescheduled. I managed to find the initial post in the archived forum.
Re-Announcing: Act V
There are new buffs and I take the liberty to re-post it here since it is going to appear in AW.
Flare

-You have a 300% Attack Boost.

-You Degenerate 100% of your Max Health over 60 seconds.

-The strength of this Degeneration is affected by Class relationships.•If you have a Class disadvantage, it will be 150% over 60 seconds (essentially 100% over 40 seconds).

•If you have a Class advantage it will only deal 50% of your Max Health over those same 60 seconds.

This buff was a big sticking point for a lot of you in our original thread, and we definitely know why. Straight up degens can be scary, we know, but the degen here isn't meant to force you to buy potions. It's actually meant to act as a looming challenge for players to finish fights quickly as opposed to playing hyper-defensively. In our tests, aggressive players were able to finish fights very fast with teams of 4/40s, taking very little damage, especially when they had a Class Advantage. Basically, Flare is designed to encourage aggressive play.

Breakthrough

-Champion (the boss) has +5,000 Armor Rating.

-Every time you land a hit, you reduce Armor Rating by 200 permanently.•Once you land 25 hits, this bonus Armor Rating will have been overcome.

•All subsequent hits continue to apply the same reduction to boss' base Armor Rating.

We've actually changed this one after some more playtesting since we announced it. Now, it will take half as many hits to remove the additional Armor Rating, but it's worth noting that this is not persistent between fights, so if you die, you'll have to land another 25 hits before the Armor Rating is gone again. Breakthrough is designed to do a couple things: first, it's meant to discourage brute forcing (no relation to the other buff in this list) a fight. We want you to carefully consider who you're bringing into the fight, and expect to use them for a decent period of time instead of simply throwing as many champions at it as you can. Secondly, it's meant to speed the pace of the fight up over time. The fight will start slow, but eventually, if you play well and don't die, you'll reduce the opponent's Armor Rating to 0 and start dealing way more damage.

Life Transfer

-You degenerate 2% of your Max Health Per Second.

-You steal 125% of the damage you deal as Health.•This percentage is affected by Class relationships (+ or - 25%)

This buff can be considered a cousin to Flare, but it has a slightly different intention in-game. Its is meant to loom over a fight, and may very well bring you close to death if you're playing too defensively, but it's also meant to reward well considered sequences of attack. The result is a yo-yo of tension throughout a fight. As an example, one of our playtesters was inches from death, playing as Storm, trying to bait a special. They dodged it, then threw her Special 2 and they were suddenly back at full health. This isn't the only instance of this happening but it was exciting to watch, and easy to see how the buff facilitated a good risk-reward scenario, which is our intention.

Burden of Might

-Every time you gain a buff, you lose 25% of your Max Power.•You also get a 15% reduction to Power Gain for every buff currently active on you.

•This is NOT per unique buff. For example, a Phoenix with 7 Furies will have a ~100% reduction in Power Gain.

•This doesn't affect power sources like Power Gain, only the Power gained from being hit or hitting an opponent.

•For example: Mordo will still get his Power Gain Buff's full effect, but every time it activates, he will immediately lose 25% of his current Power, since it's a buff.

Power Focus

-You gain increased Critical Rate equivalent to 25% of the percentage of your Max Power you currently have.•For example, if you have 100% of your Max Power, you will have a 25% increase to your Critical Rate, and if you have 40% of your Max Power, you will have a 10% increase to your Critical Rate.

Burden of Might and Power Focus are only used together in Chapter 1, so they essentially function as one buff in this context. Burden of Might is pretty straightforward in that it's meant to encourage you not to bring champions that buff themselves into the fight, but originally, that was it. We realized quickly that this was more stick than carrot. Playing in the way the buff encouraged you to didn't give you anything, it just became not noticeable and the fights didn't feel unique. To fix this, we added Power Focus to incentivize champions who would gain power from somewhere other than Buffs (i.e. Champions who wouldn't proc Buffs). The result is a scenario where it's possible - but harder - to complete fights with a buff Champ, but it's way more beneficial to A) bring someone who doesn't proc Buffs,

bring someone who has a high Crit Rate or Crit Damage, and C) think about your masteries. When you play in this way, the fights will end super quickly comparatively.

Brute Force

-If you have not landed a hit in 6 seconds, you begin to suffer a Degeneration that deals 100% of your Max Health over 30 Seconds.•The strength of this Degeneration is affected by Class relationships (+ or - 50% Max Health). Below is the strength of this Degeneration per second it is on you:

•Disadvantage: 5% Max Health per second

•Base: 3.3% Max Health per second

•Advantage: 1.6% Max Health per second

-Landing a single hit on an opponent (the boss) will reset this timer and remove any Degeneration Effect.

Kinetic Instigator

-When you strike a blocking opponent (the boss), you gain the same amount of power as you would normally when hitting an opponent.

Like Power Focus and Burden of Might, Brute Force and Kinetic Instigator are used together, and they're designed to encourage players to be more conscious of the rhythm of a fight, and to interrupt the normal flow of combat in interesting ways. We want to discourage the normal parry-combo-parry or evasion heavy play and instead place difficult decision points into those patterns. If the degen is about to start, do you keep baiting a special or do you land a single hit to reset it? What would be more dangerous for you? If you're playing in a solid rhythm, and skilled at baiting specials, you will likely never even feel the degen at all, but just because it doesn't take effect doesn't mean it's not affecting the rhythm of combat. Kinetic Instigator is here as a "bailout" from languishing in a cycle of not being able to land a hit. If you're unable to land a hit to reset the timer, you can just pound on the enemy's block enough to throw a special 3, and reset the timer.
I think this link here posted on Reddit is a very excellent walkthrough for
Chapter 1
.