**KNOWN ISSUE**
Some items are displaying erroneous star ratings. This seems to be happening most on items where typically there are no star ratings. We have found the cause for the issue and it will be resolved, targeting mid-late next week.
Looking for Sorcerer Supreme Tips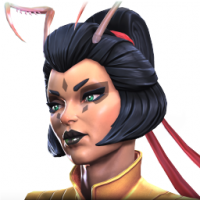 CosmicGuardian
Posts: 324
★★★
Just recently managed to pull Sorcerer Supreme out of a 5* crystal. Does anyone have any gameplay or rotation tips/advice? Or is she even worth ranking at all? She's a champ that I'm overall not very familiar with so any help would be very much appreciated.
Post edited by Kabam Porthos on