YellowJacket Guide: Ode to a forgotten buff
pseudosane
Posts: 2,560
★★★★★
Disclaimer : I am not a Youtuber, all clips in this thread are made to store the videos off my phone.
As you all may know, I am an avid YellowJacket fan. The buff to YJ was made a year ago (i think?) and at the time, my alt account had a duped 6* so I took him up to r2 to test him out. And boy, was I heavily impressed. Over time, he became my second r3 on that account, I grinded for him on my main account in the arena (and r3ed him), and have an r5 on my third (mini account). All the footage shown here are from my three accounts. My main and alt are in a Map7, P2 alliance, and plays T2 wars. My mini is in Tier7/8 (chill) alliance.
So, what makes YJ so good?
1) Extremely high energy resistance.
YellowJacket has an insanely high energy resistance. He ranks 4th in the game at 5134 (at r3), behind mordo (max sig when blocking, 19.4k at sig200 r3), Guardian (8591 at r3 sig200), and WM with Tigra synergy and his own prefight (5.3k approx). He is also the only champion to have such a high resistance, without any requirements or buffs, which makes him incredibly versatile out of the box, with no sig investment.
2) High Physical resistance
YJ has the highest BASE physical resistance in game, at 1185 at r3, making him incredibly tanky along with his energy resist. His block proficiency is also above average due to this.
3) On demand Slow
YJ has an on demand slow on the heavy, at the cost of 10 nuclear core charges. This lasts for 10 seconds. There are not many slow champions in game, and he joins Redguardian, Spidergwen and s99 as the other slow champs in the science class. The reach of his heavy is also surprisingly high which allows a very safe heavy intercept.
4) Passive heal reduction
Nuclear charge reduces opponent regeneration. each charge reduces it by 1% making it obsolete at 70+ charges. This is passive and has no debuff attached to it, which is huge utility for his kit.
5) Sp2 Petrify
If the above reduction wasnt enough, YJ also has access to a very potent sp2 Petrify for 15 seconds at a base 50% potency, plus increased potency for every nuclear core charge. This makes him viable for many powergain matchups as well.
6) Damage reduction from unblockable specials.
If ALL of this wasnt enough, YJ can also reduce unblockable special damage by an astonishing 75%! This further adds to his tankiness as a champion.
Shoutout to a synergy with Kingpin, where inflicting a debuff adds 10 nuclear core charges.
Why isnt he talked about too much?
The main reason is his damage his not very high. His crit rate is average, crit damage is average. He doesnt have big yellow numbers, but his damage is respectable. Middle of the pack. His powerstings pack a decent punch (12-16k damage from 3 stings) at r3 and his mediums can crit for 4k easily, but he doesnt hit very hard.
This is an issue for those who like closing fights very quickly, and is a big reason why folks havent looked at how useful he can be.
Separately, his kit looks good, little bits of utility. But together, they make YJ an incredibly versatile champion, able to be used in a variety of different situations. I have been working on footage showing me use him in T2 wars (season 31), and in content.
Slow utility+ Energy resist :
YJ taking on mixmaster Apoc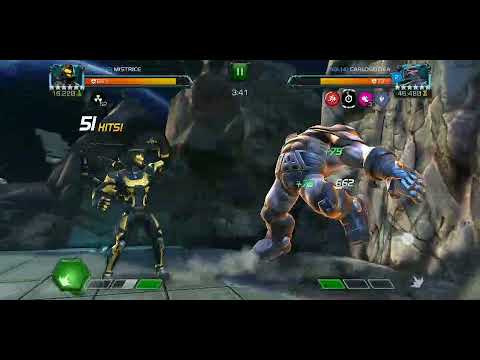 YJ vs T2 HighGround ProfX Mixmaster mini : i get hit by an unblockable special with 12+ prowess!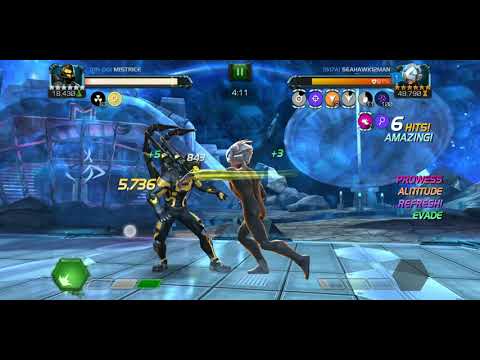 Energy resistance Utility:
r5 YJ vs 12k attack HB in variant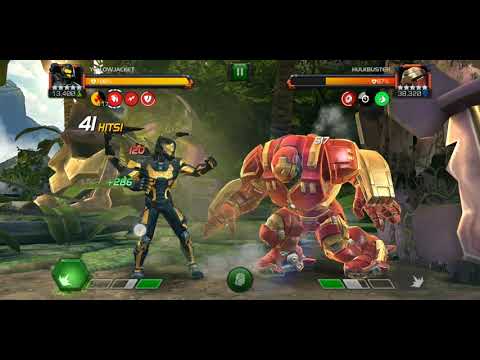 r5 YJ vs Variant Havok 12k attack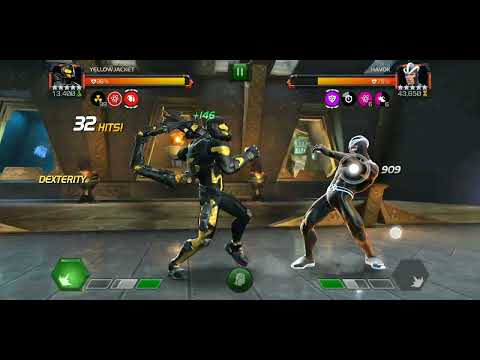 r5 YJ vs Variant Apoc, 11k attack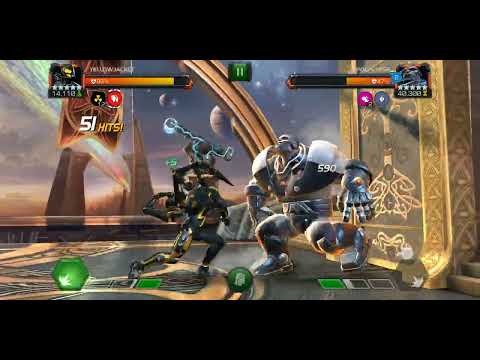 r5 YJ vs Electro boss, villain Variant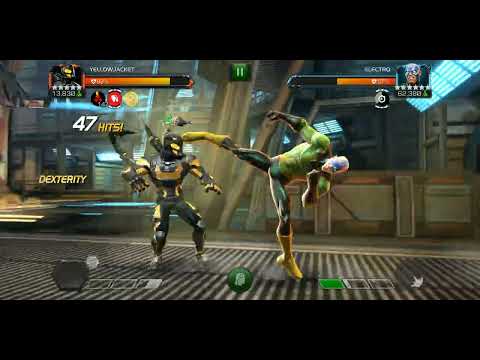 Slow utility:
r3 YJ vs T2 brute force mini Thing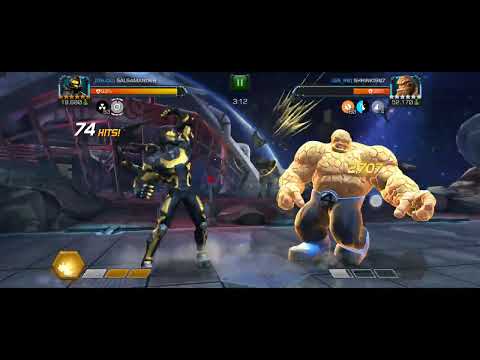 r3 Yj vs Strike counter Fury t2 war Thing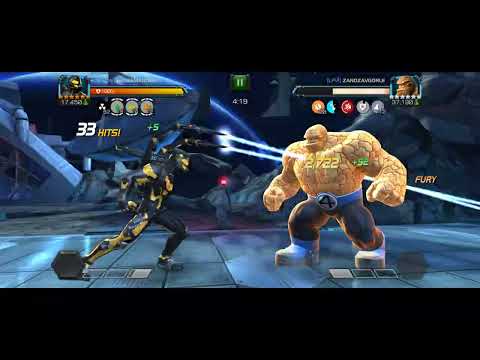 Slow+ heal reduction utility:
R3 YJ vs T2 Brute force Sasquatch mini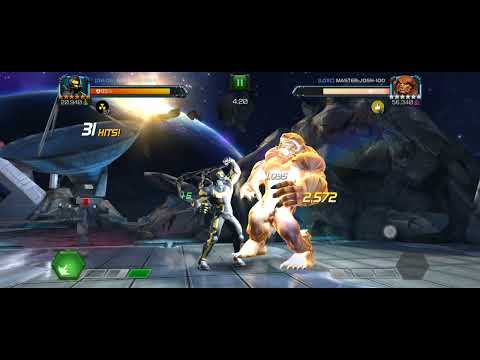 Heal reversal utility:
R5 Yj vs Villain Variant, aggression regen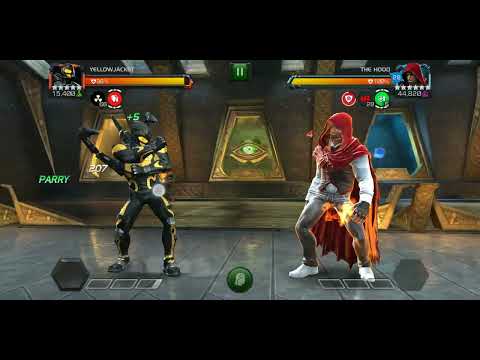 Energy resist+ heal reduction utility
r5 YJ vs 12k attack 1% regen Vision Aarkus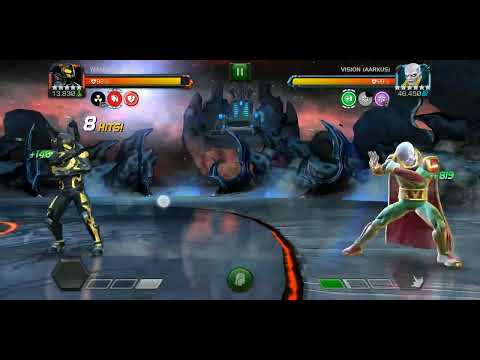 Physical resistance utility:
r3 Yj path 5 T2 war Sasquatch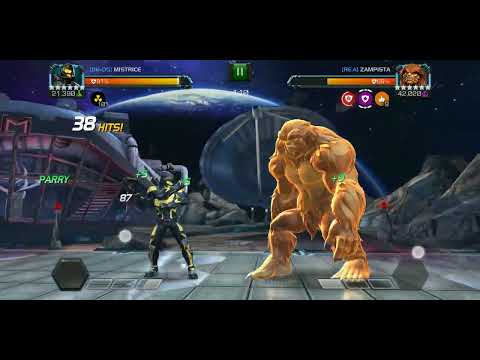 Unblockable specials utility :
R3 YJ Vs path5 T1 America Chavez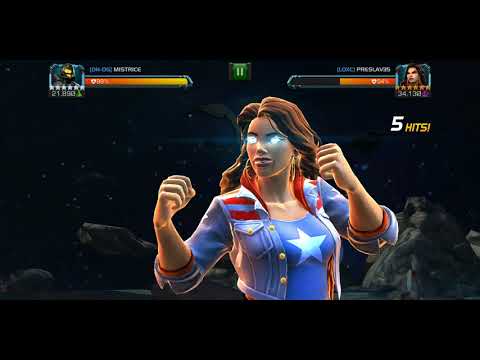 Overall utility Physical+ energy resistance
R3 YJ vs T2 America Chavez boss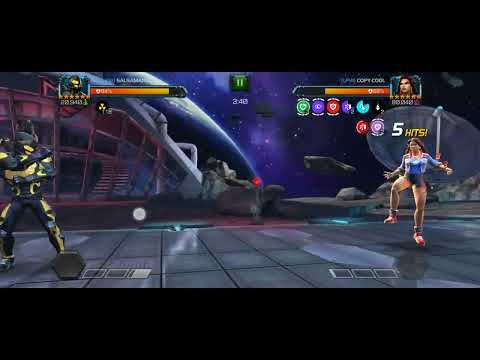 R3 YJ vs T2 Mojo boss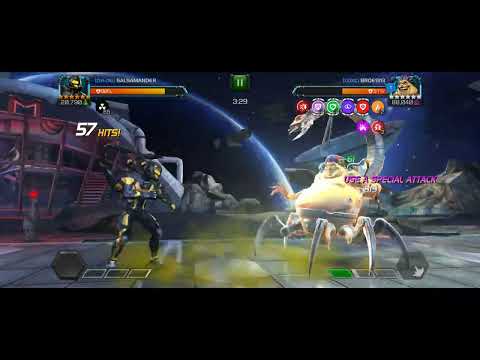 Current war utility :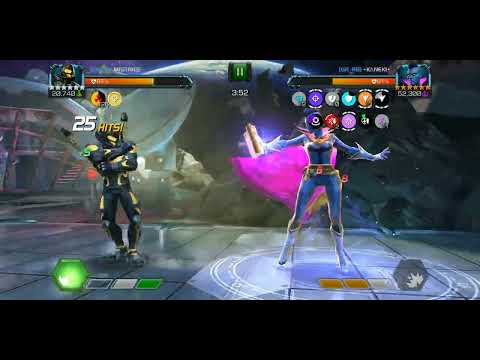 And of course, the standard 6.2.6 champion solo: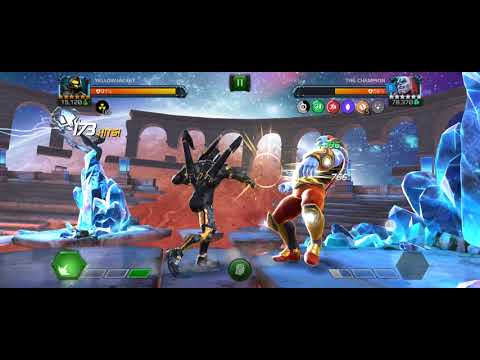 I have a fairly expansive roster of r3s across my two high level accounts (29 and 17 respectively), but I seem to be turning to Yellow Jacket more often than not to solve my problems, especially in war. Many higher skilled players will be able to do a lot more than i can here. I urge everyone to look past the initial lower numbers and take a second look at this wonderful champion, you will be surprised to find a hidden gem.