Champion Attributes: Live on Scorpion, Black Cat and More!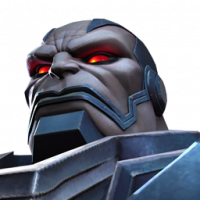 Kabam Miike
Posts: 7,659
Administrator∙Moderator ›
Greetings Summoners!
We have recently announced a new Champion Attribute system that we will be implementing on all of our Champion Spotlights in the coming months.
If you need a refresher on what that is, take a look at this post here.
The main goal of Champion Attributes is to help Summoners, new and old, have an idea of the strengths and weaknesses of a Champion at a glance. In order to do this, Attributes are broken down into 5 separate categories:
Damage

Survivability

Ease of Use

Utility

Defender Strength

We also want to take this opportunity to clear up some misconceptions that have been floating around:
These ratings are based on Data collected from multiple sources in-game. Your opinions may vary on individual Champions, but we are going to portray these ratings in relation to some of the most competitive content in-game, and won't be able to take individual or niche cases into account.

Champion Synergies are not accounted for in these Ratings. While Synergies can certainly make Champions more powerful (I'm looking at you Cable and Apocalypse), we want these to represent the Champion as is.

Champion Buffs are not going anywhere, but they may be less frequent. We said it in the original post, but we're going to repeat it here. Regardless of if this rating system was introduced or not, there would have been a chance to the Cadence in Champion Buffs as we get closer to a point where we need more overhauls and fewer value updates.

You should expect more Buffs than Nerfs. If we applied this program historically to the last year, you would have seen a lot more Buffs to underperforming new Champions. We have historically tuned down overly potent Champions in the past, and rarely have those ever been seen as a major nerf. Our goal here is to show you right off the bat what a Champion should be capable of.

Read all about Champion Attributes and check out some of the Samples on the site now.