Act 7 Chapter 4 Exploration Bundle Offer Clarification [UPDATE May 4th 4:40 PM PT]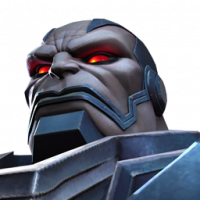 Kabam Miike
Posts: 7,655
Administrator∙Moderator ›
Summoners,

Earlier today the Act 7 Chapter 4 Exploration Bundle was inadvertently sent out to players that did not qualify for this offer, including those that have not completed Act 7 Chapter 4, or those that have already purchased it previously. It will not be reenabled it you purchased the offer today (May 4th).

After briefly disabling this offer, we've now re-enabled it for all Summoners that have achieved the rank of Thronebreaker or Paragon. We will not be removing any items or taking action against any Accounts that have purchased the offer twice.
Post edited by Kabam Miike on
This discussion has been closed.