Silver Surfer Synergy with Galan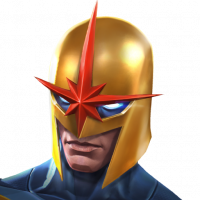 altavista
Posts: 792
★★★
Base Silver Surfer already gains Vigilance (Anti-Miss) if SP1 is used with 3 unique buffs active (so essentially 2 heavies + one SP1).

Herald Silver Surfer (finish one fight with Galan to gain charges to make Silver Surfer a Herald) to gain True Sense (Anti-Miss + Anti-Auto Block) by using 1 heavy + 1 SP1.

Am I missing something, or does this really not do anything? Sure, it shortens the time to counter Miss (and Auto-Block), but since you are already doing those steps anyway (trying to get the 3 unique buffs), it isn't really a shortcut.

This seems like a very convoluted way to make Silver Surfer counter auto-block. If they had instead made, for example, where you can consume your Power Cosmic Buff on Medium ending combo to gain True Sense buff, then this would have added new gameplay mechanic for Silver Surfer (potentially an additional Unique Buff to increase the energy damage).

Unfortunately, Silver Surfer remains a champion where the payoff to ramp up ratio is not worth it.